By Cecilie Nielsen
Latest update: July 2021 by Laura Nijhuis
ADIDAS is a worldwide German brand, especially recognized for their BOOST-midsole. Get the list of the best running shoes from ADIDAS here!
ADIDAS are among the top manufaturers af shoes and sports equipment and in this article you get a list of the best ADIDAS-running shoes in the current market. It all began in the German city Herzogenaurach in 1924 under the name Gebrüder Dassler Schuhfabrik, when the two brothers Adolf and Rudolf Dassler started producing sports shoes.
A family feud in 1947 tore the brothers apart and Rudolf Dassler followingly launched PUMA, while Adolf Dassler founded ADIDAS a year later. The headquarters of both companies are based in Herzogenaurach, where Adolf and Rudolf grew up.
Since then ADIDAS have developed into one of the biggest brands in the world.
ADIDAS are especially recogninzed for their groundbreaking BOOST-cushioning which provide amazing cushioning and return energy. Over the last years, the ADIDAS development of new running shoes has reached new heights.
Here you will get a quick presentation of the best 6 ADIDAS running shoes available right now.
ADIDAS Ultraboost 21
- Best comfort
ADIDAS Ultraboost is a true classic and an extremy comfortable and soft running shoe for the neutral runner. Ultraboost 21 has been redesigned and now has 6% more BOOST in the midsole than its predecessor. The stable and very elastic upper as well as the terrific fit make the shoe wrap itself around your foot. ADIDAS Ultraboost 21 is suited for long distances on asphalt and is clearly the ADIDAS running shoe with most comfort. So, if you are looking for a running shoe with MAX. comfort, ADIDAS Ultraboost 21 is no doubt the right shoe for you!
ADIDAS Solar Boost 3
- Best all-round
ADIDAS Solar Boost 3 is a comfortable and soft running shoe for the neutral runner. Its a great running shoe for versatile workouts and may be used for runs on distances from 5 km to marathons. Solar Boost 3 provides the right stability and comfort throughout your run. Solar Boost 3 is not as soft but more stable than Ultraboost 21. So, if you only want to own one pair of running shoes, ADIDAS Solar Boost 3 is the right shoe for you.
ADIDAS Solar Glide ST 3
- Best stability/pronation shoe
ADIDAS Solar Glide ST 3 is the stable version of ADIDAS Solar Glide 3. It is best suited for the pronation runner who needs mild to moderate pronation support. Solar Glide ST 3 really stabilizes the foot without compromising on comfort. There is no doubt that Solar Glide ST 3 is the best choice if you need pronation support and still want a complete running shoe.
ADIDAS Solar Glide 3
- Best 'Value For Money'
If you want to make a great deal, you should consider ADIDAS Solar Glide 3. The shoe is both suited for daily training as well as long distances and may be used by the neutral runner. ADIDAS Solar Boost 3 and ADIDAS Solar Glide 3 are very similar. However, Solar Glide 3 is slightly less stable than Solar Boost 3 and in addition Solar Glide 3 has a more traditional upper. The difference in price should also be taken into account as Solar Glide 3 is cheaper and you get great value for your money.
ADIDAS Adizero Boston 10
- Best for racing
ADIDAS Adizero Boston 10 is an allround running shoe for the neutral runner which can be used both as a training shoe for your short runs or as a fast shoe for racing, intervals and competitions. For the very experienced and fit runner, ADIDAS Adizero Boston 10 can also be used as the primary high-mileage training shoe. Compared to ADIDAS Adizero Pro, Boston 10 feels softer, more cushioning and more "forgiving".
ADIDAS ADIZERO PRO
- Best for competition
ADIDAS Adizero Pro is a really light running shoe for racing and competitions. Thanks to the carbon fiber plate in the midsole, you get explosive propulsion in this shoe. Its an ideal racing - and competition shoe for the experienced runner, who wants to chase records. If you´re looking for softer comfort and more bounce, ADIDAS Adizero Boston 9 would be a better solution.
ADIDAS TERREX SPEED ULTRA
- Best for trail running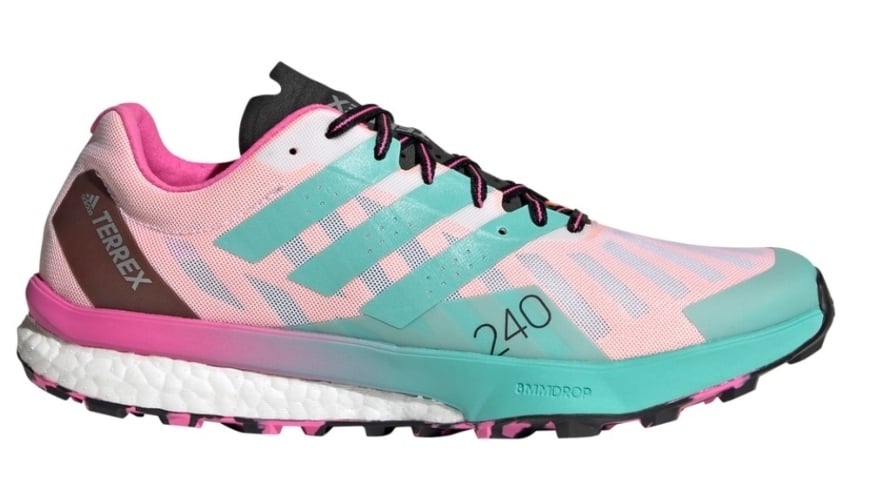 With ADIDAS Terrex Speed Ultra you will almost feel like you are hovering over the terrain. This trail running shoe is light and comfortable. Its designed with ADIDAS' characteristic BOOST-midsole as well as the fast and responsive Lightstrike foam. The 2,5 mm outsole lugs make ADIDAS Terrex Speed Ultra into a versatile trail running shoe fit for solid and somewhat looser terrain.