By Laura Nijhuis
Japanese brand, Asics, are known for running shoes with extremely good fit and comfort. I've chosen 6 of their best from 2020 for this article to give you a simple and manageable overview of the various models and their individual strengths. The goal is to make it easy for you to make the right decision when choosing your next Asics running shoes.
BEST NEUTRAL BASE TRAINING SHOE - ASICS GEL-NIMBUS 22
The Asics GEL-Nimbus is one of the most popular neutral endurance running shoes from Asics - and the Nimbus 22's are no exception! These bestsellers offer maximum shock absorption and are categorised as endurance training shoes, which makes them perfect for longer runs at a relaxed pace. Just when you thought a running shoe couldn't get more comfortable, Asics have managed to add even more support in the heel and midsole, which further boosts the already impressive comfort.
BEST VERSATILE RUNNING SHOE – ASICS GEL-CUMULUS 21
The Asics GEL-Cumulus 21 is a neutral running shoe with more moderate shock absorption. They are slightly lighter than the Nimbus-22's, which makes the Cumulus optimal for both short and long distances. Asics have given the Cumulus 21's an updated heel counter and toe box, which make for a fantastic fit from front to back. If you're looking for a versatile running shoe for varied daily training, these should be top of your wish list.
BEST RUNNING SHOE FOR BASE TRAINING AND LONGER COMPETITIVE RACES – ASICS GLIDERIDE
The Glideride is Asics' take on an innovative running shoe for base training and longer competitive races, for example, half marathon or marathons. What sets them apart from other Asics models is the curved forefoot which allows for a more effective run where you can run further without using more energy. Our expert describes it as the most enjoyable running shoe from Asics in a long time – read his review here. With the Asics Glideride, you get a unique, cutting-edge running shoe without compromising on comfort – loaded with cushioning and resilience without feeling too soft.
BEST PRONATION RUNNING SHOE FOR BASE TRAINING – ASICS GEL-KAYANO 26
Although the Asics GEL-Kayano 26 was released last year, when you're listing Asics' best running shoes, you can't not include the Kayano! This is one of Asics' absolute top models and has been for a long time. The Kayano suits runners with mild to moderate pronation. With maximum cushioning, the Kayano is especially good for base training and is in many ways to pronation runners what the Nimbus is to the neutral runner. Compared to earlier releases, the Kayano 26 feels soft and responsive in it's cushioning. This is due, not least to improvements to the midsole, heel, and forefoot. Aside from this, the toe box is slightly higher and wider, leaving more space for the toes.
BEST PRONATION RUNNING SHOE FOR VARIED TRAINING – ASICS GT-2000 8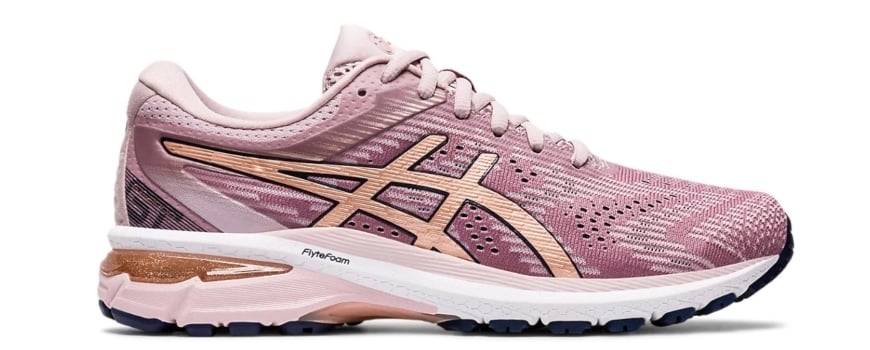 The Asics GT-2000 8 is aimed, as with the Asics GEL-Kayano, at runners with mild to moderate pronation. It has more even cushioning in comparison to the Kayano and offers a fantastic balance between cushioning and weight, making it suitable for both short and long distances. The versatility and extreme comfort on offer mean the Asics GT-2000 is the obvious choice for daily, varied training.
BEST RUNNING SHOE FOR INTERVAL, TEMPO, AND COMPETITIVE RUNS – ASICS GEL-DS TRAINER 25
If you're looking for a light competition shoe or want to supplement your daily training with some quick interval or tempo runs, then the Asics GEL-DS Trainer 25 is the shoe for you. This race shoe offers responsive cushioning and fit of the highest class! If you already own the Asics GEL-Kayano or Asics GT-2000, the Asics GEL-DS would make for an excellent addition to your running gear. Asics GEL-DS Trainer 25 is one of the only light-weight shoes on the market for pronation support that also suits the neutral runner – Read about my test-drive here.
More inspiration?
Find more articles in our inspirations universe here: