Its finally here! The shoe that I and possibly a lot of other people out there have been waiting for. A great challenger to established racers from adidas and nike.
New Balance Fuelcell RC Elite 2. See more here and check out my review of this amazing running shoe.
Its not long ago that New Balance launched New Balance Fuelcell RC Elite and only half a year later the successor New Balance Fuelcell RC Elite 2 is now introduced. And it arrives with even more Fuelcell in the midsole.
Its no secret that I am a huge fan of Fuelcell which works perfectly with my style of running. Its soft, provides plenty of return energy and it works perfectly together with a carbon plate which you´ll find throughout the midsole of RC Elite 2. You can actually see the carbon plate if you look under the shoe.
The shoe provides a super bouncy sensation and the more power you put into it, the more confidence it will return to you. In spite of the high stackheight, the shoe provides a lot of stability in your turns.
My three favorite running shoes at home right now is New Balance Rebel V2, New Balance Fuelcell TC and now also this RC Elite 2, so you gotta say that New Balance has really captured my heart.
All three shoes fits my type of running perfectly. New Balance Fuelcell Rebel V2 for the easy-going and long runs, New Balance Fuelcell TC for pace and New Balance Fuelcell RC Elite for racing and setting new records.
The first thing you spot when you see this shoe is of course the colors. Its purple and pink on one shoe and purple and orange on the other shoe and I have to admit that I certainly haven´t owned many running shoes that were as colorful as this one.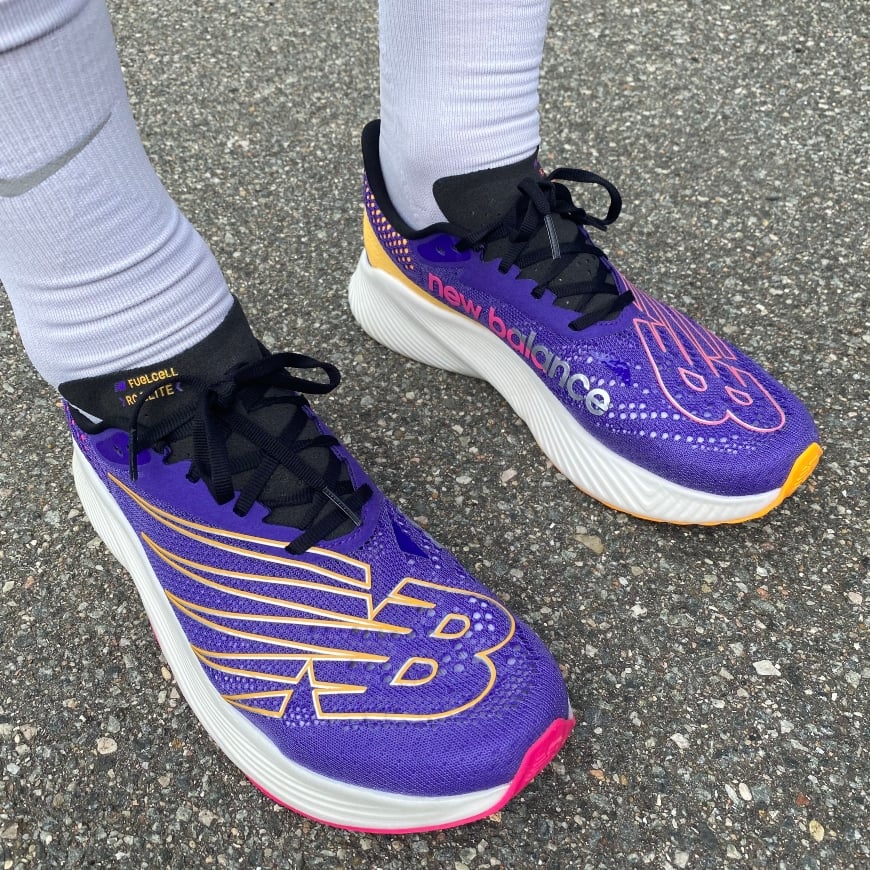 I was quite sceptical about it in the beginning but I gotta say that it grew on me. I can´t say if its because it provides a great running experience but with the quality you´ll find in this shoe, New Balance can get away with anything.
Fuelcell is not for everybody. If you are midfoot - or forefoot runner, you´ll get the optimal benefits from this shoe. If you land on your heel, it will simply be too unstable and soft for your long runs. And in that case New Balance 1080 will be a better option.
Can New Balance RC Elite 2 compete with true racers? My answer is yes! There is no doubt that Nike and adidas among others have produced extremely fast shoes which also have delivered a number of world records but I would certainly not be surprised if New Balance within long will own one of these records.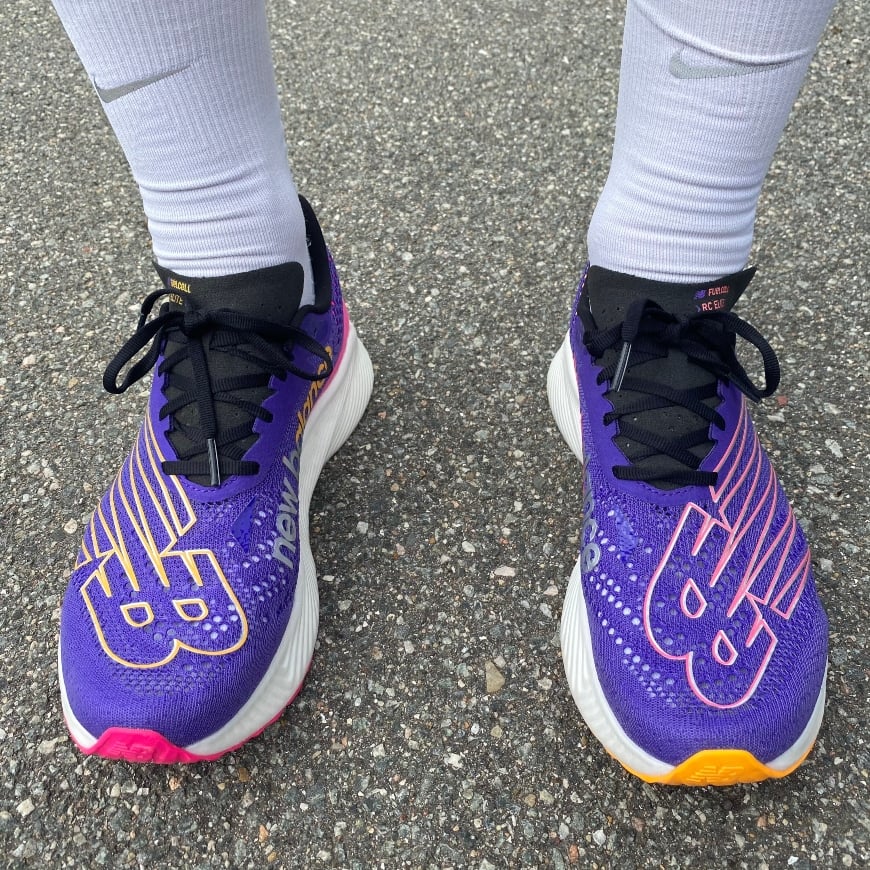 In terms of the outsole, the dynaride from RC Elite has been dropped so the outsole is now more reminiscent of a Fuelcell TC. The cool thing about this outsole is that it is extremely durable and can last mile after mile.
Currently I have done plus 500km in Fuelcell TC, so I certainly think and hope that this shoe can do the same.
So in the end, if you need a shoe for records and want to try something else than the rest, RC Elite 2 is possibly a great way to go. Its fast, light and extremely comfortable for racing. I am certainly looking forward to testing it on a fast run!
Buy NB Fuelcell RC Elite 2 here
More inspiration?
Find further articles in our universe of inspiration right here: