Written by Julie Elkær
Running to and from work is a really good and effective way of combining training and commuting.
Nothing beats the feeling of meeting in at work after a run. Your energy level is completely different, and you will not have to worry about any late trains, packed busses, and the rush hour.
If you want your runs to and from work to be a successful undertaking, then it is vitally important to plan it in advance to make the commuting work effortlessly.
But most importantly, and an absolute must-have, is a good running backpack to make the transportation of your personal belongings easy.
In the article below, I will give a good recommendation, where I will be reviewing the running backpack IAMRUNBOX Spin Bag.
A roomy running backpack, which is specially designed for sport, travel, and Run Commuting to and from work.
IAMRUNBOX –

Designed for run and movement
IAMRUNBOX was established in Sweden in 2015 and built on love for travels and a passion for running. But especially built from the wish of creating a backpack, which will make it easier and more comfortable to transport personal belongings from A to B.
When the founder Kirill Noskov started running to work in order to fit his daily exercise into a busy schedule, he found it impossible to pack his office suit without it getting wrinkled.
Therefore, he started developing products that would make it easier to stay active in any weather, keep the clothes free from wrinkles, to securely attach heavier things like a laptop, and increase movability and comfort for all the people who everyday make use of alternative active travel.
And that is how IAMRUNBOX was made.
Today the smart running backpacks from IAMRUNBOX are being sold in an array of variants for different purposes.
A good choice – also for the environment
Buying a backpack from IAMRUNBOX is not only a good choice for yourself because of its smart look, increased comfort, and ergonomic design.
IAMRUNBOX is also a good choice for the environment.
The brand's aim is to increase the amount of so-called "sustainable commuters" by making solutions for anyone interested in a more sustainable lifestyle.
For this reason, all products from IAMRUNBOX make it easier for you to run, walk, or cycle instead of taking the car.
This is because all of their products offer support and packing systems, which are essential when you are on the run.
Funfact: IAMRUNBOX calculated how much they have contributed in the fight against the emission of CO2 by encouraging a healthier and more sustainable way of commuting, and in 2019 they on average saved an impressive 467353,8 kg CO2!
IAMRUNBOX Spin Bag –

the bag to fulfil every need



Not too long ago, I was introduced to the brand of IAMRUNBOX and I was quite frankly excited when I was asked to try one of their products.
I live in central Aarhus and I spend many hours a week on active transportation like running, walking, or cycling to work, workouts and various other activities.
At the same time, transportation takes up a big part of my life and as a result I often need a good and comfortable running backpack for my many various and not least active transport situations. Previously, I would make use of various alternative solutions like a net and uncomfortable bags or standard backpacks, but this is neither optimal nor comfortable.
The IAMRUNBOX Spin Bag comes to my rescue, as it is perfect for these activities.
The Spin Bag is a roomy and functional running backpack, which stands out from IAMRUNBOX's other backpacks because of its more stylish and urban design.
The backpack's main compartment is waterproof and closes at the top by using the smart Roll-Top Closure system, which can expand and adapt to your needs.
Furthermore, the backpack's other compartments are water repellent due to the smart welded zippers.
The Spin Bag is available in two sizes – 18L and 30L. They are big enough for you to not worry about a lack of space again. In addition, the waterproof main compartment is designed with a built-in organizer that has enough room for e.g. a 15" laptop, which ensures your belongings are securely fastened without jumping around when you are running with the backpack.
At the back panel is a padded pocket, which fits your phone, notebook, or the like.
The backpack has comfortable shoulder straps and adjustable waist and sternum straps to complete the ergonomic design and to ensure an ideal fit.
The Spin Bag also has a soft padded back panel, which ensures an ideal fit and good support for your back when you are running or doing other physical activity.
The Spin Bag is available in two different sizes and a variety of different colours to fit your style.
I, myself, chose the 18L-model instead of the bigger model, which can fit 30L, as I believe this size makes it easier and more comfortable to put on the back and walk, cycle, or run as it will not be too big to transport.
In addition, I picked the Spin Bag in the white colourway, as I think the neutral colour complements my various outfits in a cool and different way.
Besides white, the Spin Bag is also available in black, grey, and orange.
Spin Bag's technical specifications
Height: 400 mm
Width: 290 mm
Depth: 150 mm
Weight: 700 grams
Volume: 18L
Laptop pocket
Height: 360 mm
Width: 240 mm
Material
90% PVC, 10% Polyester
High comfort and free movement
I personally picked the IAMRUNBOX Spin Bag as its ergonomic design and features fulfil my need of effortlessly transporting my personal belongings from A to B by either walking, cycling, or running.
As mentioned, I often make use of active commuting to work, fitness, or the like and I therefore needed a bag that could hold different things like a computer, clothes, shoes, and other bits and pieces. Therefore, the Spin Bag was the perfect choice for me due to its built-in organizer and size.
The Spin Bag measures 400x290x150mm and is slightly bigger than other running backpacks on the market.
But once I started wearing it, I was pleasantly surprised by its comfortable fit because of the soft back panel and the adjustable waist and sternum straps.
When choosing a good running backpack, it is important that the backpack fits closely to the back, so the bag's weight is as close to the spine as possible.
Because the further away the weight is from the spine, the bigger the chance is that the bag's contents will move up and down, decreasing the free movement and leaving a bad running experience.
The Spin Bag's adjustable straps ensure that the backpack fits perfectly and shapes itself to your back, which provides for an incredible running experience.
In addition, despite its nice and durable materials, the bag only weighs 700 grams, which also contributes to my comfortable runs and free movement when wearing the backpack.
This is how I run with the IAMRUNBOX Spin Bag to work
When I am running to work, I try to optimise the amount of baggage I need, which is normally quite a lot, in order to carry as little as possible.
This is so I can have it all in my Spin Bag, but also to make my running backpack as light as possible, which makes it more comfortable to run with.
Additionally, I make use of the IAMRUNBOX Singlepack and the IAMRUNBOX Shoebag to keep my stuff in place in the backpack and to ensure that my change of clothes do not get wrinkled and dirty.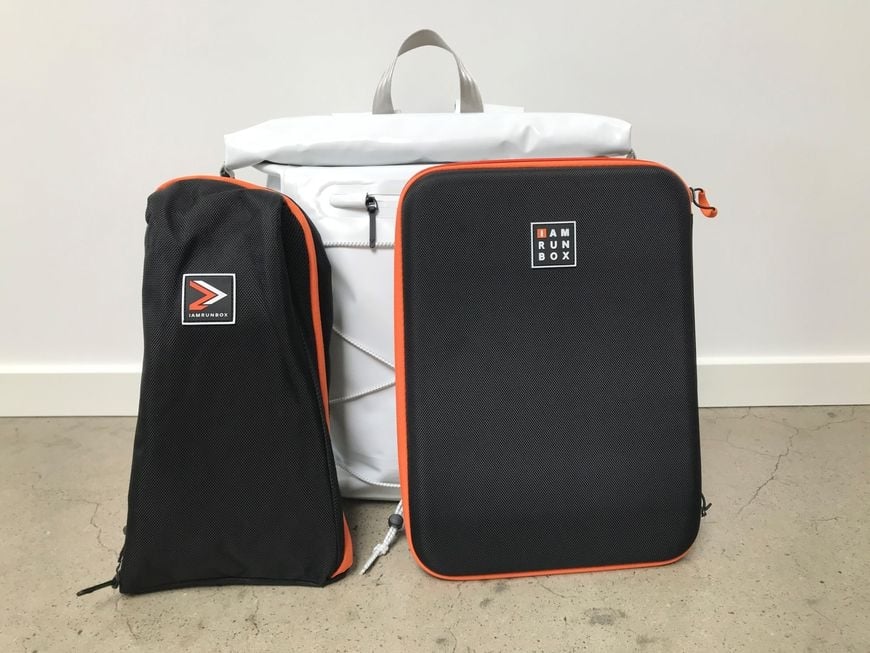 Besides making stylish and functional backpacks, IAMRUNBOX also makes incredibly cool and smart accessories, which only makes it even easier to transport your belongings in a comfortable way.
Buy IAMRUNBOX accessories here
My packing list when I run to work looks like this:
Laptop (15")
Change of shoes
Change of clothes
Lunchbox
Towel
Keys
Phone
Notebook
Wallet
It is evidently clear from the pictures below that there is no shortage of space when I pack my gear in my Spin Bag. And on top of this, when I have finished packing all my stuff and I am ready to go, the backpack still only reaches a weight of around 1.5-2 kg.
The smart Roll-Top Closure system at the top of the backpack also ensures that the Spin Bag can vary in its size depending on the purpose, how much you pack, and how tight you roll the Roll-Top.
Because of this, it makes for a super good all-round bag when using it for activities like running, walking, or cycling but also when you use it as a travel backpack for exploring the world.
As previously mentioned, I personally decided to test the IAMRUNBOX Spin Bag as I, besides running, also make use of different active transportation options and need extra room in order to use the bag for different purposes.
Moreover, I also picked the Spin Bag because of its beautiful design, which I personally place great weight on when I have to pick my gear.
Since the Spin Bag is more of an all-round bag, which IAMRUNBOX by the way also categorises it as, it is not 100% designed for longer runs. This is predominantly due to its size.
But if you are looking for a running backpack to be used entirely for running and only need to fit the most essential stuff for your running commute to work, then IAMRUNBOX has recently launched their newest member of the family: the IAMRUNBOX Backpack Pro 2.0.
I have to shortly mention this model in the article, because it has received warm reviews from run commuters all over the world and simply fulfil all needs if you wish to start running to work or already are running to work and just need a (really) good running backpack.
In short, the IAMRUNBOX Backpack Pro 2.0 is packed with smart features, which makes it easy to bring your belongings when you are running to work.
Backpack Pro 2.0 is water resistant, light, and fits perfectly on your back due to its adjustable straps, which creates a unique 100% anti-bounce experience.
Unlike the Spin Bag, this backpack only has a volume of 12L, which makes it light and quick to swing around your shoulders and bring with you on the go.
In addition, the Backpack 2.0 is made with an inner lining that keeps your laptop and work clothes in place, so it does not move around when you are running.
This model also comes with an IAMRUNBOX Clothes Folder, which helps you fold your work clothes in a way that it does not get wrinkled in the backpack.
Find your favourite and run to work with IAMRUNBOX
Running to work can convert the annoying and boring commuting to something mentally and physically engaging, which also helps towards your daily exercise.
On top of that, it is also a good way to help the environment by emitting less CO2 and taking the alternative and healthier transportation by running-commuting.
And with the IAMRUNBOX, you are making it even easier to include the active commuting as a part of your weekday.
If you are looking for a stylish, roomy, and not least comfortable running backpack, which effectively organises your gear and makes it easier to transport your belongings from A to B, then IAMRUNBOX is definitely worth considering.
I personally chose the IAMRUNBOX Spin Bag that fits my needs, but please do have a look at their other models – find your favourite and start running to work.
Have a good trip!
WANT MORE INSPIRATION?
Find reviews, guides and more inspiring content right here: