The new Garmin HRM-PRO heart rate belt is similar to the HRM-TRI belt. But as a new feature it introduces memory which makes you able to measure your heart rate without wearing your heart rate watch or using the Garmin Connect App. Read my review of the Garmin HRM-PRO here.
SPECIFICATIONS
- Replaces: HRM-TRI and HRM-RUN
- Weight: 59 g.
- Battery: Up to 12 mth. (1 hour charge a day)
- Adjustable size
- Currently the softest and lightest Garmin heart rate belt
- Withstands 5 meter depth pressure
- Withstands temperatures between -10 grader and 50 degrees (Celsius)
- Offers precise heart rate measurement during training and during your day
- Bluetooth & ANT+ connection
- Running Dynamics transmission
GARMIN HRM-PRO FOR ALL TRAINING
Do you practise a sport where its not always appropriate to wear a watch or do you want a precise alternative for the wrist heart rate measurement in your watch? Then Garmin HRM-PRO is certainly worth considering.
Garmin HRM-PRO can be used for most sports like running, cycling and swimming - but also for a long list of other activities. Due to the fact that Garmin HRM-PRO is similar to HRM-TRI, it can also be used for triathlon og duathlon.
HEART RATE BELT WITH MEMORY
The launch of Garmin HRM-PRO has been focused around the revelation that its designed with offline memory to store your daily activities (incl. heart rate data, steps, calories and minutes of intesity)
In that way you can wear the heart rate belt without having to bring your watch. Previous heart rate belts in the HRM-series required a constant connection with the connected device to send your data to the device (to avoid losing the data). But HRM-PRO stores data from all your activities and sends it to your watch subsequently.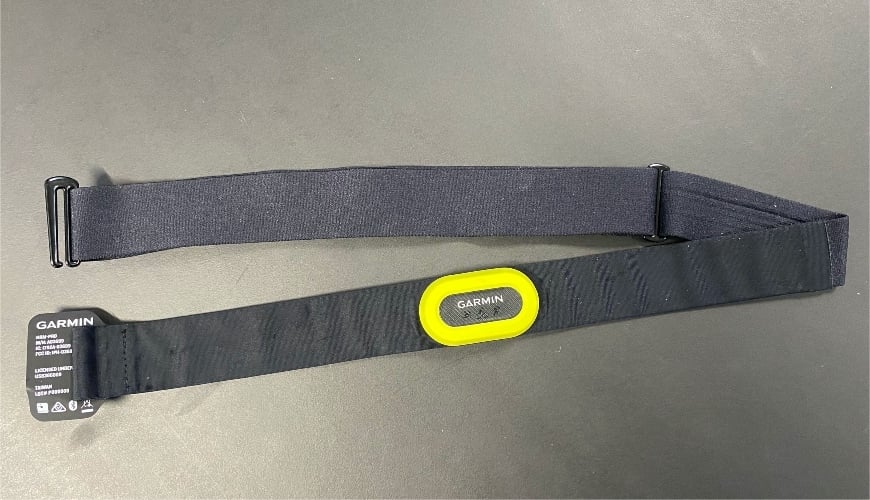 It might be somewhat long-winded to understand how it really works but basically offline data is stored in the following two ways:
Option #1: RETRIEVING TRAINING-DATA BY ACTIVATING ACTIVITY ON WATCH
If you want a more accurate heart measurement than the wrist heart rate measurement in your watch, then you can put on the Garmin HRM-PRO belt at the same time as you start an activity on your watch. The measurements of the belt will overrule the wrist measurements.
When you start an activity on your watch while you are wearing the heart rate belt, the measurements are logged as a specific activity (running, swimming, crosstrainer – according to what you have chosen).
In addition this function is great for swimming - even though there are heart rate watches that can be used in water, the heart rate measurements often fluctuate. Thanks to the HRM-PRO belt, you can choose swimming as an activity and leave the watch out of the water. The heart rate belt will store the measurements and upload them to the watch subsequently.
The same applies to contact sports like handball, football and martial arts where you are not allowed to wear a watch. You can start an activity on your watch and leave it on the sideline. When you´re done, you stop the activity on your watch and then the heart rate - and activity data will automatically be transferred to the watch (and the Garmin Connect App).
Option #2: DAILY ACTIVITY WITHOUT USING YOUR WATCH
If you don´t feel like or you don´t have the option to wear your heart rate watch during the day, then you can wear the Garmin HRM-PRO heart rate belt underneath your clothes. The heart rate belt measures steps, calories, heart rate and minutes of intensity during the day. When you open your Garmin Connect App afterwards, the data measured during the day will be synchronized in the App and fill out the time when you weren´t wearing the watch. In that way you can get your heart rate measured and register your daily activity 24/7.
It can be a smart thing to do if your heart rate watch is charging or you don´t have the possibility to wear it to work.
In fact it is possible to use your HRM-PRO heart rate belt and register your daily activities totally without using the watch.
Summary: If you start an activity on your heart rate watch while you are wearing the heart rate belt, the measurements will be logged as a specific activity which i. a. can be reproduced in Strava.
If you don´t start a specific activity on the watch or you use the belt without the watch, the data will be logged as a daily activity.
If you use another watch than Garmin, you only get the heart rate measurements on your watch. The Garmin Connect App and all the advanced data you can find in the App, are reserved for Garmin products.
FIT
The Garmin HRM-PRO belt is adjustable and produced in the same soft fabric as HRM-TRI. I think the belt has a very nice fit. The first time I ran with it, I had to stop to tighten it a little bit, but otherwise it has never created any discomfort during training.
If you are planning to use the belt primariy for swimming, you may consider using the HRM-SWIM belt which sticks more to the body in water than the other heart rate belts from Garmin. However, it does not have the same transmission and memory as Garmin HRM-PRO.
It important to note that the heart rate belt does not transmit directly to the watch while you are in the water. But its a smart function that the HRM-PRO belt can store data and upload it to the watch subsequently.
ADVANCED RUNNING DATA WITH RUNNING DYNAMICS
Like Garmin HRM-RUN and Garmin HRM-TRI, the HRM-PRO receives advanced running dynamics like your cadence, your stride length, ground contact time and bounce.
The different data is uploaded to the Garmin Connect App, where you can see a list of all dynamics and analyze them yourself afterwards.
The collected data isn´t just fun facts but may at the same time be a relevant tool to better understand your running style and running dynamics.
NOTICE! Running Dynamics analyze your running dynamics. So even if you can use the heart rate belt for cycling, you won´t get your cycling cadence reproduced.
RUNNING POWER
Running Power is a different way of measuring your efficiency which is gaining popularity within trail running where you can´t use you pace to measure efficiency in the same way as you do when you are running on road. The reason is that when you are on the trail, you are often running in hilly and uneven terrain which naturally slows you down.
BLUETOOTH CONNECTION OPENS OPPORTUNITIES
With the addition of Bluetooth for HRM-PRO, Germin has opened the door for their heart rate belts to be used together with third-party devices. That means you can connect the heart rate belt to a training app on your smartphone, other heart rate watches (than Garmin), treadmills and home trainers with Bluetooth, etc..
In any case you will be able to reproduce your heart rate, your steps and calories on third-party devices. The collected Running Dynamics data is reserved for Garmin Connect.
CONCLUSION
Garmin have taken the best from HRM-TRI, HRM-DUAL and HRM-RUN respectively and on the basis of that created the best HRM heart rate belt ever – the Garmin HRM-PRO.
With the addition of offline memory, you can now use Garmin HRM-PRO without having your watch nearby - and without losing the data. The Garmin HRM-PRO stores the data and uploads it to your device and /or your Garmin Connect App, as soon as these are connected again. It provides you with even more freedom - especially if you practise a sport, where its tricky to wear a watch.
Why choose HRM-PRO over HRM-TRI?
Like the HRM-TRI belt, you can also use HRM-PRO for any triathlon eller duathlon without having to change along the way.
The advantage is that you can use the belt without your watch (or together with the watch if you just want more precise measurements during under-water og high-intensity training)
In terms of heart rate measurements, other heart rate belts will probably offer the same precision. But you will not find a heart rate belt with memory anywhere else. That makes Garmin HRM-PRO into a unique premium product that puts it on another level compared to other heart rate belts on the market.
More inspiration?
Find more articles in our universe right here: