With the Havit Fitness Tracker H1108A you can easily analyze your daily activity and thus make sure that you get enough exercise during the day. Read the review of the activity tracker here.
SIMPLE DESIGN AND CLEAR AND OBVIOUS CONTENT
Havit Fitness Tracker is a light and classic activity bracelet with a simple design and content. In spite of its narrow display, Havit Fitness Tracker presents your data in a comprehensive style and size which is easy to read. The resolution of the display was very satisfactory for my needs and better than what I had expected at that prize.
The design is generally very minimalist and not very spectacular which I otherwise think that most people would prefer. The activity tracker has only one pressure sensor button which is used to activate the display as well as scroll between the various measurements.
On the back of the activity tracker, you´ll find a sensor which measures heart rate, blood pressure and saturation of the blood (SpO2). I am somewhat sceptic about the accuracy of the blood pressure measurement, but it works as a starting point. However, I definitely would recommend buying the Havit Fitness Tracker H1108A for its basic measurements of steps, distance, heart rate and calorie burn.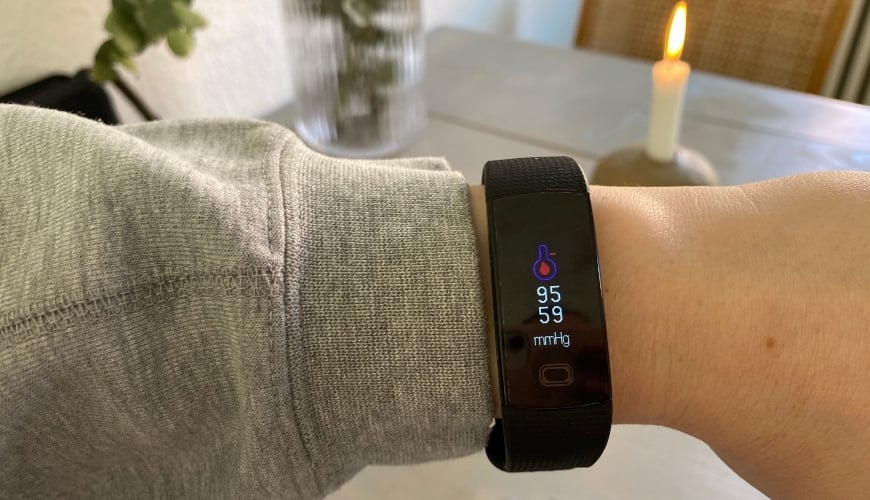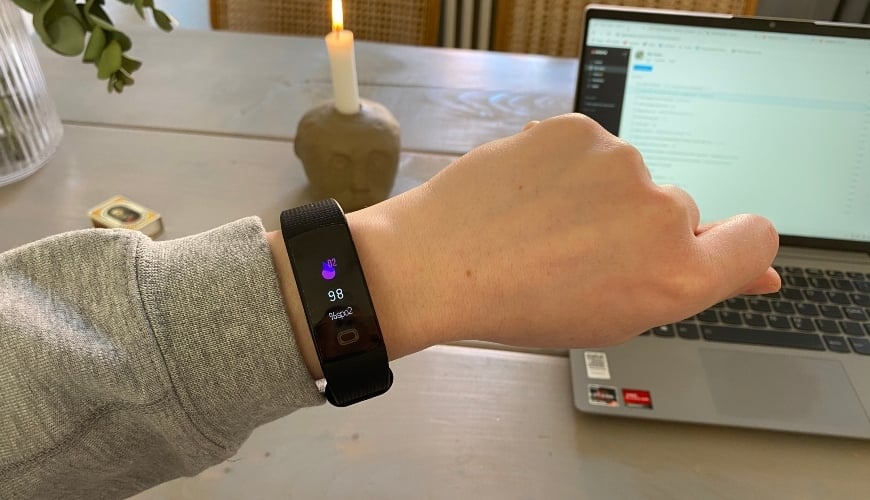 Havit Fitness Tracker comes with a manual, which refers to an app, where your data is synced. In the app Jyou (a name I haven´t been able to decode), you can easily and comprehensively analyze your activity of the day. In general, the manual is incredibly useful in spite of its modest size - it has everything you need to know in relation to setting up and using the activity bracelet.
A small tip: Don´t panic when you find out that there is a charging cable missing in the box. If you read the manual, you´ll discover that Havit Fitness Tracker has an integrated USB-stick, which can be connected to a computer or a plug with a USB-port, when you need to charge the watch. No more messing around with cables - its practical!
The activity tracker has an impressive battery life of up to 7 days which is the same level as some of the best activity trackers from Fitbit.
In total I think the installation proces, the content and the app bears witness of a very simple and user friendly product. Which is only very positive! More features usually include a more advanced and complicated user manual.
AFFORDABLE BASIC ACTIVITY TRACKING
You can easily wear Havit Fitness Tracker H1108A during cycling, running or hiking if pace and lap times doesn´t mean the world to you. Personally I regard Havit Fitness Tracker as an activity tracker and a great alternative to the analog wrist watch.
Among the daily measurements and data from the Havit Fitness Tracker, you get a pedometer, distance, heart rate and calorie burn. Those are the basic measurements if you compare activity trackers and its generally the most sought after features.
Havit Fitness Tracker H1108A can also register the duration of your sleep but the sleep analysis doesn´t sell the watch. There is clearly potential for an improvement of the app - both in terms of layout and the use of it. Its as if the app registers a tap on different parts of the content but it doesn´t allow you to proceed. So, even if the activity tracker is quite intuitive, Havit need to put a little extra love into the app. But again - the app does show the basic measurements which most people want to see.
The activity tracker should be purchased if you would like to check how far you walk during the day, how many calories you burn and what your heart rate is. And this is available for a price which is lower than most other activity trackers.
SMARTWATCH NOTIFICATIONS
I was surprised to find out that Havit Fitness Tracker also may receive notifications from my watch on the display. Its a good way of keeping yourself updated on messages and incoming calls if the phone is face-down or in your pocket/bag. Its a great tool for deciding whether you need to check your phone or if it can wait. And my experience is that it creates fewer disruptions during the day than if I constantly have my phone at hand.
The watch has a stop watch and you can set it to provide reminders when you have been inactive for a long time - Like with the rest of the content, it is very intuitive to find out.
CONCLUSION
Havit Fitness Tracker H1108A is the perfect tool if you want to adopt a healthier lifestyle by being more active - for a low price. The activity tracker is also ideal if you want to compete with yourself to top your previous activity statistics, which you can see in the JYou app. Its without a doubt a great activity tracker for the one who wants the content delivered easily and intuitively. This makes it very useful for kids and teenagers. Having said that the watch case in Havit Fitness Tracker is probably a little too big for children´s wrists.
Activity and motion should not be so hard. Its my experience that the will to beat previous records creates motivation for more exercise. And Havit Fitness Tracker makes it super easy to get started.
Buy havit fitness tracker here
More inspiration?
Find further articles in our universe of inspiration right here: