I have tested the neutral high-mileage training shoe, Mizuno Wave Sky 4, which still carries all the best features from its predecessor along with Mizuno's completely new Enerzy midsole. Read all about it here!
I have not done so much testing on Mizuno shoes earlier, so I was exited to try out the new Mizuno Wave Sky 4, wihich allegedly is a high.mileage training shoe with great comfort and unique return energy.
Wave Sky 4 is Mizuno's absolute topmodel for the neutral runner. The shoe is a worthy competitor to Asics GEL-Nimbus, Saucony Triumph, Nike Vomero and ADIDAS Solar Boost. So if you have previously enjoyed one of those models, you will probably also like Mizuno Wave Sky 4!
DYNAMIC COLOUR COMPOSITION
Mizuno have earlier been relatively neutral in their choice of colour and colour compositions. There are certainly a vast group of runners who might agree with that style but in general it has failed to set them apart from their competitors.
However, it seems as if Mizuno (already by the launch of Wave Sky 3) have begun to test new approaches – in particular with this model in black with a dynamic colour composition in the midsole. It makes it look less ´heavy´ if you ask me.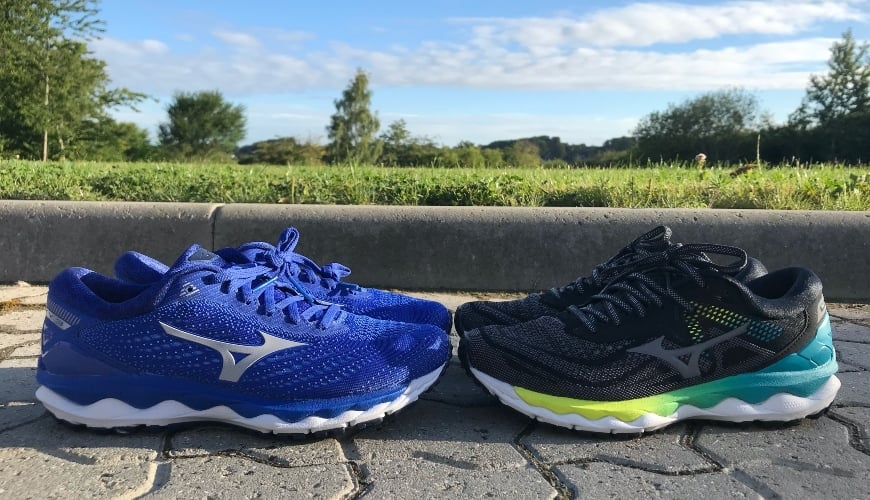 Left: Mizuno Wave Sky 3, right: Mizuno Wave Sky 4.
The upper is produced in a slightly thicker mesh which I think is optimal with summer now approaching the end. The fabric, however, still feels breathable and elastic even though the toe box feels slightly smaller than earlier. It doesn´t squeeze my toes, however. The shoe has a tight fit and doesn´t feel clumsy.
Left: Mizuno Wave Sky 3, right: Mizuno Wave Sky 4.
Left: Mizuno Wave Sky 3, right: Mizuno Wave Sky 4.
BETTER FIT
As soon as I put my feet in Mizuno Wave Sky 4, I noticed that the shoe has got a significantly firmer heel cap than in the previous edition.
I have earlier tested Asics GEL-Kayano 27, which apparently have one of the most firm heel caps in the market which helps to assist the pronation support in the shoe.
And if you ask me Mizuno Wave Sky 4's heel cap comes close to the same level of firmness which makes Wave Sky 4 one of the most stable neutral running shoes that I have tested.
The heel cap itself is well padded with a soft fabric so even though it has a tight grip around your heel, I never felt discomfort around my heel or Achilles tendons.
NEW ENERZY MIDSOLE TECHNOLOGY
Mizuno has an ambition to constantly improve your performance by offering the perfect combination of shock absorption and return energy. And it is based on that ambition that Mizuno Enerzy has been developed.
Enerzy is designed to offer a return energy and comfort which surpasses Mizuno´s previously used materials. In fact Mizuno Enerzy is 17% softer and gives 15% more return energy than previous editions. Enerzy offers minimal loss of energy. In that way you are getting the most out of every step.
If you are already familiar with Mizuno's running shoes and are exited about their comfort, you will probably experience a clear improvement in the shape of a softer landing and exeptionel return energy in your next running shoes from Mizuno.
If you are yet to try out one of Mizuno´s running shoes, then I would clearly recommend one of those models which features the new midsole. You won´t be able to make the comparison with previous editions but instead you will get a very comfortable running experience with supreme return energy during your complete run regardless of the distance.
A MIDSOLE IN THREE LAYERS
The sole in Mizuno Wave Sky 4 consists of Mizuno's softest three midsole materials: U4icX, XPOP and the recently introduced Enerzy.
U4icX is a light foam material which has been used in Mizuno's midsole during an extended period of time. Its an old acquaintance which keeps performing and consequently is still used in new versions. U4icX is the coloured and top part of the midsole.
XPOP was introduced in 2019 as an ultra light foam which provides superb flexibility and bounce. XPOP provides the floating feeling on your runs and contributes to propulsion. It is actually hidden away and is only barely visible from a small window below the sole. But we have taken the shoe apart to show you what it is composed off.
Mizuno XPOP midsole.
Last but not least the new Enerzy material has been integrated into the midsole to top the soft and persistent comfort mile after mile. It is the white part of the midsole and the foam which has been used the most in the composition of the midsole in Mizuno Wave Sky 4.
The new Mizuno Enerzy midsole material.
It may sound like a lot with three layers of foam but I think Mizuno has managed to create a bouncy comfort without making the midsole unnecessary thick.
Mizuno Wave Sky 4 just feels great and pleasant. I like that Mizuno Wave Sky 4 fels soft enough without losing unnecessary energy. Therefore I have also been able to up the pace during my runs without the shoe feeling heavy or preventing me from increasing the pace.
Mizuno Wave Sky 4 midsole in three layers.
Durable outsole
Mizuno Wave Sky 4 provides one of the most durable and profiled outsoles in the market. It extends the durability, provides a soild grip and makes the shoe non-slip in wet conditions.
I have tested Mizuno Wave Sky 4 on asphalt, dirt roads and grass. It has felt safe because the shoe has a superb outsole and a tight fit.
Mizuno Wave Sky 4 outsole.
REVIEW FROM OUR EXPERTS
Jesper and I have both tested Mizuno Wave Sky 4, and we both agree that Mizuno Wave Sky 4 is a superb high-mileage training shoe with a midsole which is particularly well suited for extended runs at a slow pace.
Laura: I have tested Wave Sky 4 on both short and long runs at different pace - also close to my top speed. Wave Sky 4 is not the ideal shoe if you are going for a high-pace run or doing intervals. It is simply to heavy for that (just like many other high-mileage training shoes) Wave Sky 4 has been at its best during slow pace runs or runs where the pace has been partly slow and partly moderate. The amount of foam is not so big that you get stuck in the landing too long. The Enerzy material at the same time provides enough bounce to move on quckly from the landing.
Jesper: I have also tested Mizuno Wave Sky 4. And for me its one of the coolest shoes from Mizuni to date. I love the modern look and mix of colours but most importantly the shoe is just simply an enormous pleasure to use.
I use many different shoes in my weekly training - depending on what kind of run I am going to do. And I agree with Laura that Mizuno Wave Sky 4 is best suited for extended runs at a slow pace. During those runs, the shoe provides a superb comfort and protection which makes you feel good even when you start to tire.
Mizuno Wave Sky 4 is a serious workhorse that you can hardly wear out. I have done around 100 km in Mizuno Wave Sky 4, and you can hardly see that it has been used. I have also been very pleased to use Mizuno Wave Sky 4 on my recovery runs at jogging pace. Again its the comfort that makes it perfect for this purpose.
If you are the type of runner who usually stick to one pair of shoes at a time then Mizuno Wave Sky 4 is the pefect choice thanks to its comfort and protection. Mizuno Wave Sky 4 will provide a super plesant run regardless of pace and distance.
SATISFACTION GUARANTEE
Mizuno can vouch for their running shoes and highly developed technologies. Therefore Løbeshop.dk has no hesitation to offer a satisfaction guarantee on all Mizuno running shoes in cooperation with Mizuno. It means you can use your new Mizuno running shoes for up to 60 days and still have the possibility to return them if you are not satisfied with the comfort, the quality, etc..
Read more about satisfaction guarantee on our blog or right here.
WHY SHOULD YOU TRY MIZUNO WAVE SKY?
In spite of relatively few updates on the upper and the outsole, I think that Mizuno Wave Sky 4 has increased its comfort thanks to the new Enerzy midsole. Thanks to the Enerzy midsole, Mizuno have joined the race to create a running shoe with terrific shock absorption and amazing return energy.
Mizuno Wave Sky 4 is the perfect choice if you want a neutral running shoe with superb stability which doesn´t limit your feet in their natural movements. It provides a great sensation and support regardless of the distance.
Mizuno Wave Sky 4 is ideal for the runner who usually goes for slow- and moderately paced runs. The shoe provides a soft and pleasant comfort on extended runs. But I think you can also easily put on Wave Sky 4 for short distances because it is adequately straightforward to not feeling heavy and slow.
More inspiration?
Find additional inspiration in our universe right here: