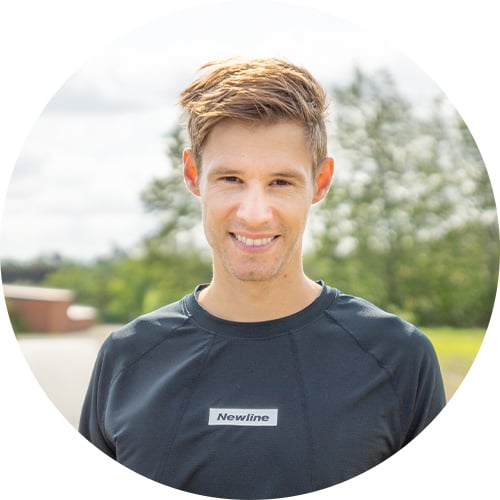 By Jesper Petersen
These last weeks I tested the Saucony Peregrine ISO. You will get my personal review of the all-round trail shoe here.
Saucony Peregrine ISO is a trail shoe, that is, a shoe designed for running in varied terrain; a shoe that protects your feet and ensures great traction, letting you stand firm on the ground when going off-road.
Saucony Peregrine ISO is in my opinion one of the very best all-round trail shoes on the market. The perhaps greatest reason for this is to be found in the outsole of the shoe.
The outsole has 6 mm long studs, which are made of a very sticky rubber mix that really grabs on to the surface, no matter if it is wet or dry. I typically cross a lot of different kinds of surfaces on my trail runs, including road, gravel, sand, dirt, rock, and grass, and often also pools of water and mud. And the Peregrine ISO works really well on ALL these surfaces. Even in spite of the rough sole, you can still do longer runs on road, such as to and from the woods, without getting sore feet.
Upper
The shoe has a soft, comfortable, and relatively tightly-weaved upper. It is not waterproof, but even when I run through small pools of water or tall and wet grass, my feet are still kept completely dry. So it is definitely more water-repellent than traditional running shoes for road.
Lacing system
The lacing system is one of the best that I have experienced on a trail shoe. The tongue lies above the insole and is thick and soft and just feels super comfortable. It is fixed to the sole with two wide elastic bands, giving it a nice sock-like feel.
On the outside there is the so-called ISOFIT fingers, which let you adjust how tight it should be above the insole. In combination with some light and elastic laces, it is just incredibly easy to find a great fit. All in all, it is a really, really great lacing system.
Heel
The heel of the shoe is very narrow and tight-fitting, and it provides an extremely great hold of the back of your foot. I think it may be the narrowest heel I have ever seen on a trail shoe. But it works really well. It really helps keep your foot in place. Even when the terrain is very uneven, your foot will never slide around inside the shoe.
The shoe has a very average width and height at the front.
Midsole
The midsole is a combination of Saucony's PWRFOAM and EVERUN materials. Together, they provide very well-balanced shock-absorption that is both soft and comfortable enough to do the longest kind of runs while still feeling fast and responsive when you speed up.
Conclusion
No matter if you are a trail novice or a very experienced trail runner, the Saucony Peregrine ISO will be a very great choice. And no matter if you do long, short, quick, or slow runs. Or whether you run on road or in the mud – it makes no difference. The shoe can handle it all.
Saucony Peregrine ISO recently won the prestigious Editor's Choice Award in the largest and most recognizes runner's magazine, the Runner's World. So it is not just me who thinks that this is an excellent trail shoe.
Buy Saucony Peregrine ISO here
Want more inspiration?
Find reviews, guides and more inspiring content right here: