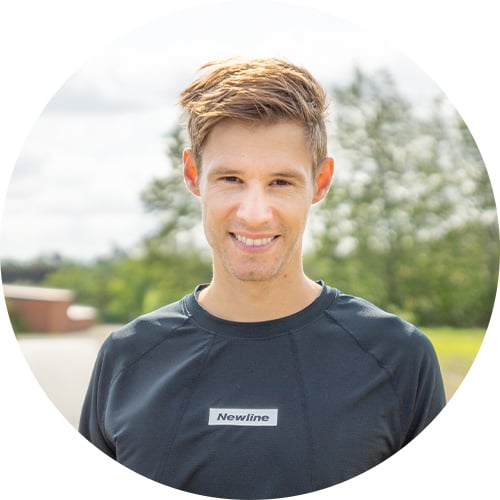 By Jesper Petersen
Asics Novablast is the softest and springiest running shoe from Asics to date! I've tested the shoe over the last few weeks and this review will give you my personal opinion of the Asics Novablast.
Perfect choice of name
I'll start by looking at the name, NOVABLAST. In my opinion, Asics has done an amazing job with this. The name expresses precisely what is so special about these running shoes.
The word 'BLAST' (part of the name NOVABLAST) means 'explosion'. If you use it in the phrase 'Having a blast', it means to have fun.
And that's exactly how Asics Novablast feels! It feels springy and very energetic underfoot (almost like an explosion) and it's just really fun to run in!
I'll try to explain why in the following paragraphs.
New, bouncy FLYTEFOAM Blast midsole
Asics have recently introduced the new GUIDESOLE technology in the Asics GLIDERIDE and Asics EVORIDE, and the curved sole design and stiff forefoot reduce ankle flexion and create an easy, more efficient stride. You can read more about it here: Asics EVORIDE – Energy-saving running shoes
With Asics NOVABLAST, Asics has introduced YET ANOTHER brand-new technology in the form of a new midsole foam called FLYTEFOAM Blast™. It's a lightweight material that is super soft and super bouncy!
Asics NOVABLAST contains a large amount of FLYTEFOAM Blast, making it the Asics shoe with the highest energy return to date. That means it's the shoe that gives back the most energy to the runner in every step!
Note the aggressive and fast-looking geometry of the midsole.
Unlike almost all other Asics running shoes, the NOVABLAST contains no GEL cushioning material. Just FLYTEFOAM Blast and a bit of FLYTEFOAM Propel in the middle of the heel to prolong the shoe's life.
The stack height is 32 mm of foam under the heel and 22 mm under the forefoot, so there is a great deal of material under the foot. Compare it with the Asics GEL-NIMBUS 22, with a stack height of just 25 mm / 15 mm.
Doesn't feel like an Asics running shoe
The Asics Novablast does not feel like a regular Asics running shoe in any way. Far from it.
The shoe is much more simple and streamlined compared to what we are used to seeing from Asics. If we look at bestsellers such as the Asics GEL-Nimbus and Asics GEL-Kayano, they are very complex and technical in their construction and they consist of numerous different materials and technologies. The Asics NOVABLAST has a relatively minimalist upper, which works well, and an extremely thick and soft midsole that isn't stuffed with all kinds of different materials.
The Asics NOVABLAST is not as stable or controlled as the Nimbus or Kayano, nor does it have the same rolling effect as the Asics EVORIDE or Asics GLIDERIDE. However, it's significantly softer and much more bouncy!
Asics says the design provides what they describe as a 'trampoline effect'. We're probably not quite there yet! But the exaggeration helps in understanding the effect. And there's no doubt that the Asics NOVABLAST is a very soft, very springy and very fun shoe!
Trampoline effect: The outsole design means that the centre can 'sink down' and then 'spring back'.
What is the Asics NOVABLAST like to run in?
Three weeks ago, when I first put on the Asics NOVABLAST shoes and walked around in them at home I thought, "this is not going to work, they're just too soft."
The shoe is very, very comfortable to step into, but it's absurdly soft! It's particularly extreme under the heel.
When you try something radically different, it often takes some time to get used to it. That's how it was when I recently tested the 'extreme rolling' Asics GLIDERIDE. And it was definitely the same with the Asics NOVABLAST! Because it is also very different.
However, after going for multiple runs in the shoe (long, short, fast and slow), the Asics NOVABLAST has truly impressed me.
I still believe that the shoe feels extremely soft under the heel. Yet it has the ability to 'bounce' me quickly forward on the forefoot, where the shoe does not seem nearly as soft. This makes the feeling under the foot a little more balanced, so it's not just softness with more softness on top, but it actually feels 'springy'.
Considering how much foam there is under the foot, the Asics NOVABLAST, weighing in at 263 g. (size UK 8), is a pretty lightweight running shoe!
Asics places the NOVABLAST in their 'speed' category – a shoe for those fast runs. But I personally think that it offers much more than that.
I actually think that the Asics NOVABLAST is excellent for everything except the very shortest and fastest intervals (where I prefer something with more firmness and response).
Pace runs, long intervals and moderate-pace runs feel like a breeze as the springy FLYTEFOAM Blast midsole propels me effortlessly forward. In general, I feel very light and bouncy in the Asics NOVABLAST.
I also wore the NOVABLAST on my recovery runs and the thick, soft sole had an amazingly protective and comfortable feel. So I can definitely recommend it for that purpose as well.
If you are a trained and experienced runner, the Asics NOVABLAST could also be a great choice for your longest runs. However, the word trained is underlined here because the Asics NOVABLAST is a rather unstable running shoe. So if you're heading out on a really long run, this shoe requires that you have good body stability and proper control of your running technique. The thick and soft midsole can feel rather 'lively' and unstable under foot.
Make no mistake, there is serious excess foam under the foot in this shoe. And it is soft. Extremely soft. So I would also say that if you're on the heavier side, I think this shoe would be too soft for you. Asics themselves recommend it for runners 'UNDER 90 kg.' Which is probably no coincidence.
Which shoe is the Asics NOVABLAST similar to?
The Asics NOVABLAST can probably best be compared to the New Balance FuelCell Propel – very soft, very springy, very fun. Running shoes with soft marshmallow-like midsoles such as the Nike Epic React Flyknit 2 and HOKA ONE ONE Clifton 6 also come relatively close. And yet not quite...
A very roomy fit
The uppers are engineered in Jacquard Mesh. It has a very roomy fit – especially in the toebox. Furthermore, the material itself is not very flexible. This means that it does NOT hug close to the foot (unlike many other running shoes). Instead, it keeps its shape, so there is plenty of room for the toes to move freely inside the shoe.
I think that the Asics NOVABLAST sizes are on the large side. I chose the same size as I normally take in the Asics GEL-NIMBUS 22, but I think I should have chosen half a size smaller. So you should probably keep that in mind. At least if you like your running shoe to have a snug fit.
Asics has the pedal to the metal when it comes to innovation
I freely admit that I was in the group who believed that Asics has been enormously conservative with their development and innovation in recent years. Tending towards dull, in fact! In my opinion, Asics lagged behind and rested a bit too much on their laurels with the success that their flagship shoes Asics GEL-NIMBUS and Asics GEL-KAYANO brought them.
It seems like Asics focused all its efforts on developing the classic running shoes instead of thinking outside the box. Or at least that's how it looks from the outside. Compared with the competition, Asics has introduced very little in terms of new technology and new running shoes.
But that's over now...
Because with the recent launch of the unique running shoes in the RIDE series (Asics GLIDERIDE and Asics EVORIDE), and now Asics NOVABLAST, I'm prepared to eat my words.
Asics has really put the pedal to the metal when it comes to innovation, and 2020 promises to be a really good year for the brand.
In my opinion, all three shoes are the most interesting products from Asics in many years.
Conclusion
Asics Novablast is a new and exciting take on the running shoe for 2020. It's for those seeking a very soft and springy running shoe that feels fun to run in. I've certainly really enjoyed going running in the shoe!
For most people, Asics NOVABLAST will complement their everyday running shoes. However, in my opinion, it is versatile and protective enough for the trained and experienced runner to use for all types of running sessions.
Asics NOVABLAST represents a new and interesting direction for Asics. I'm very much looking forward to seeing what Asics can accomplish in future with their new, soft and bouncy FLYTEFOAM Blast™ material.
WANT MORE INSPIRATION?
Find reviews, guides and more inspiring content right here: