Something huge from ASICS just launched – ASICS Trabuco Max! The ASICS Trabuco Max is a trail running shoe that provides a one-of-a-kind experience in nature. You get excellent cushioning and traction so you can perform at your best using less energy, even if you are out for multiple hours.
My impression of my first run with the ASICS Trabuco Max was "WOW a cool trail shoe". And it isn't easy for a roadrunner getting excited about a trail shoe. But the kick I typically would get in a regular running shoe with lots of comfort and propulsion is the same I get with the Trabuco Max.
An incredibly smooth transition from heel to toe thanks to ASICS FlyteFoam technology that with ease provides excellent comfort with no matter the terrain.
ASICS Trabuco Max – A super breathable upper with a great fit

If you know ASICS from their road running-collection, you quickly will recognize many of the Trabuco Max's great features.
The upper has, in general, an excellent fit. I would reckon the shoe is true to size, so the size you usually use in, e.g. other ASICS-models is the same you need with the Trabuco Max.
You get a fantastic fit with some space in the toe box, so your toes have room to lift if you are out for many hours. You get a super protective toe box with no worrying about stubbing into rocks, branches or other obstacles in your way. The toe box stretches far up, which an experienced runner like me appreciate, which means no sore toes during or after the run.
The hell cap itself is relatively stiff but still forgiving. You will come to experience a soft, cushioned hell cap that fits perfectly around the heel. No friction, rubs or other discomforts that you once in a while can be unfortunate enough to experience with either new shoes or after many hours on the trail.
The entire upper of the Trabuco Max comprises of an "aggressive" mesh-upper. It immediately appears a bit thick, but luckily it isn't the feeling you get when wearing the shoe. It is breathable and remarkably durable. Therefore, you can run through the most demanding terrain and not fear the stitches in the upper going up.
When talking about ASICS' attempt at a Quick-lace system, which most know from Salomon's trail shoes, you are either a huge fan or not at all.
Personally, I am super happy with this lacing system, but it demands a different type of lacing/clamping for the shoe to sit 100% as preferred.
But I think that ASICS succeeded with their attempt at a Quick-lace system. The way you fasten the lace at the start is the same way it sits at the end. Even though I tested them in sun, rain, sleet and snow, the laces and the fit stayed the same as from the start.
ASICS even made a stroke of genius by hiding the lace in the tongue's tiny pocket, so it doesn't bounce around or get stuck in branches, etc. while running. A small request for the next edition would be for the pocket to be a bit more snug because sometimes I experienced the laces falling out of the pocket. Fortunately, it wasn't too much trouble, and with ASICS making this stroke of genius, it just needs refining for the next model.
Speaking of the Trabuco Max' tongue, I think it will divide some people. It is incredibly well-padded and secured inside, which I appreciate. But! When you tie the shoes, the tongue then sticks out quite a bit, meaning there is a lot of excess fabric when running.
It isn't something that affects my performance, but it takes time getting used to when running.
ASICS Trabuco Max – Maximum comfort in the midsole
Something that doesn't require habituation, but you get addicted to is the ASICS Trabuco Max's midsole. It merely is FANTASTIC!
The Trabuco Max feels lighter than the weight otherwise indicate - even though it's a trail shoe that weighs more than we know from ASICS' classic running shoes. You will experience one-of-a-kind bounce and push-off combined with comfort from another world. It is comfortable running in. Not as soft under the foot as many know from HOKA One One running shoes, but you get a great feeling in the shoe.
Even though you can be out on challenging and demanding runs, then the Trabuco Max gives a mild and comfortable running experience.
The ASICS' Guidesole technology in the midsole should get the honour for that. It is a sole construction that gives an even more responsive push-off and is scientifically proven to save energy over a more extended period.
Due to the reduced strain, your muscles and joints are exposed to from heel landing to toe-off, you have the opportunity to run longer, but with a lower energy usage on the same distance. Moreover, ASICS has also added its FlyteFoam technology under both heel and forefoot, which gives you incredible comfort.
Even though my experience with trail running and trail shoes is minimal, I am confident that ASICS Trabuco Max is becoming a running shoe that trail runners love.
You get a secure and protective upper and a stable and comfortable midsole, making sure you can handle the most technical routes in a high tempo. The Trabuco Max is for sure one of the most comfortable trail running shoes in the all-round trail category.
ASICS Trabuco Max – An impressive outsole
If I sounded excited about the upper and midsole, then it's the outsole I am the most excited about.
It's the traction and grip that is the most important for many trail runners when out on uneven terrain, and here the ASICS' Grip technology doesn't disappoint. The grip on the outsole does an outstanding job with it's 4mm long studs. The design features a rubber mixture that gives traction, especially under wet and slippery conditions or in demanding terrain. Precisely, the studs face different directions on the outsole, securing a firm foot stance uphill and downhill – thereby giving the most optimal flexibility.
If you seek a trail shoe that can withstand the winter months, then the Trabuco Max is a solid bid. The shoe delivers an excellent grip on ice, wet rocks, sleet, snow, muddy gravel roads or dry conditions. You can easily run on paths or asphalt if necessary to get to and from your tracks in the forest. However, the Trabuco Max isn't the optimal trail shoe if you are running on a significant soft or muddy surface. The studs aren't long enough, and you would instead look for a trail shoe life, e.g. Saucony Peregrine 11 ST.
Moreover, the outsole has a "Rock Plate" that protects your foot if you step on roots, rocks, sharps edges, etc. The shoe is safe no matter if you are experienced or new to trail – just like me.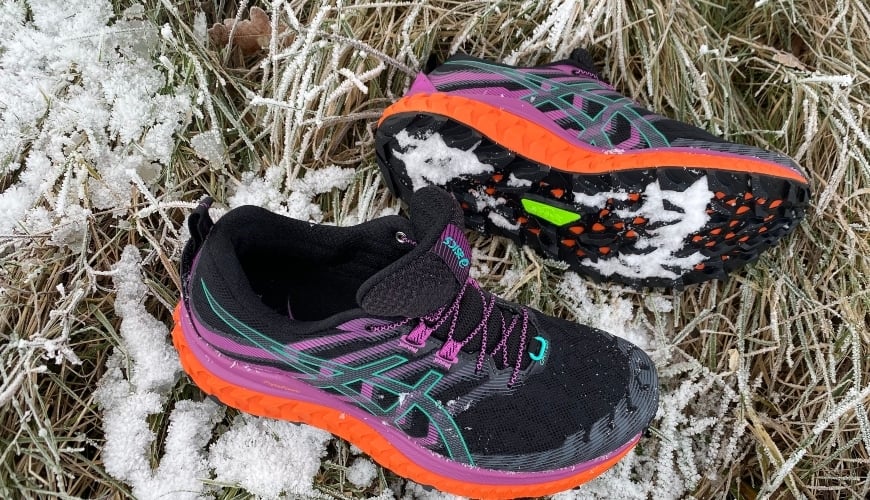 It's hard to hide my excitement when testing a product that delivers. And maybe a bit better than expected.
ASICS Trabuco Max is one of the most versatile, max padded and comfortable trail shoes. You get a super stable run, supreme comfort, very light and smooth run and an excellent grip on various surfaces.
It is the shoe for you that seeks an all-round training partner for different types of trail runs. Or for you that wants a trail shoe that makes you shine on longer trail runs, e.g. Marathon, 50km, etc.
More inspiration?
Find more articles in our inspiration universe right here: