Garmin have recently launched a number of solar powered watches where the battery life can be extended thanks to solar energy. I have tested the Garmin Fenix 6 Pro Solar, and in this review I will go through the most important features of the watch.
I´ve had this watch for months and in this test I will of course review the solar power feature which can extend the battery life. But I wil certainly also talk you through the Garmin Fenix 6-model, to show you what it is capable of.
Garmin Fenix 6 Pro Solar has basilly the same features as all the watches within the Garmin Fenix 6 Pro - or Garmin Fenix 6 Sapphire series. I have listed all the watches here:
Garmin Fenix 6S Pro, Garmin Fenix 6 Pro, Gamin Fenix 6X Pro
Garmin Fenix 6S Sapphire, Garmin Fenix 6 Sapphire, Gamin Fenix 6X Sapphire
Garmin Fenix 6S Pro Solar, Garmin Fenix 6 Pro Solar, Gamin Fenix 6X Pro Solar
See all available Garmin Fenix 6 models here
Garmin Fenix 6S vs. Fenix 6 vs. Fenix 6X
All watches in the Fenix-series named "6S" are physically the smallest. The diameter of the dial is 42 mm. Watches named "6" feature in the midsize with a 47 mm dial diameter. I am wearing that size in the picture below.
All watches named "6X" are the largest with a 51 mm diameter.
The bigger the watch, the bigger the screen- There are also some differences in terms of battery life where the bigger watches also have a biggger battery than the smallest (which means extended battery life). But regardless if the models are named Fenix 6S, Fenix 6 or Fenix 6X, they have the same features.
A world-class multisports-watch
I have primarily tested the running features of the watch. But I guarantee that no matter which sport you´re into, you won´t be short of data. This watch is for someone who doesn´t want to compromise on equipment and therefore wants the best of the best within multisports-watches.
Clearer screen in Garmin Fenix 6 Solar in comparison to Fenix 6 Sapphire
The first thing I noticed was that the screen in Fenix 6 Pro Solar was easier to read when you were outdoors compared to Fenix 6 Sapphire. I haven´t previously had the impression that the screen in Garmin Fenix 6 Sapphire was difficult to read. But if you compare it to Fenix 6 Pro Solar there is a marked difference. The Saphire-glass in Fenix 6 Sapphire has a lot of glare which Fenix 6 Pro Solar hardly has at all.
Left: Garmin Fenix 6 Sapphire. Right: Garmin Fenix 6 Pro Solar.
The glass in Fenix 6 Pro Solar is called Corning Gorilla Glass. It the same type of screen used in almost all the latest Garmin watches. Its very scratch-resistant but not quite as much as the Saphire-glass in Fenix 6 Sapphire, which is almost impossible to damage.
Impressive battery life in the Garmin Fenix 6 series
The Garmin Fenix 6 series is already known for its extremely extended battery life (Read if necessary more here: Garmin Fenix 6 Solar and Instinct Solar – Read everything about Solar-series here). But as a new feature in this version of Fenix 6, the Garmin Fenix 6 Pro Solar is equipped with built-in solar power which can extend the battery life of the watch. All SOLAR Garmin watches have this feature.
Garmin calls the screen technology "Power Glass". And if you look closely in the picture below, you can actually see the solar cell (a 1 mm thin ring marked in red arrows) placed all the way round in the edge of the screen. But in fact there is also a transparent solar cell covering the entire screen which is, however, not visible with the naked eye. The solar cell making a ring around the screen is 10 times as efficient as the "hidden" solar cell covering the rest of the screen.
Left: Garmin Fenix 6 Sapphire. Right: Garmin Fenix 6 Pro Solar.
Garmin have specified a number of values for the battery life in the new SOLAR-watches, which all need perfect sun conditions. But during a normal day where I spend a lot of time indoor, sun conditions will of course not be perfect.
So I set out to find out how much of a big difference Solar Technology actually makes during a completely normal day.
For two weeks I have been wearing a Garmin Fenix 6 Sapphire as well as a Garmin Fenix 6 Pro Solar and exposed them to the same sun conditions. Aside from the extra contribution from the solar power in Fenix 6 Pro Solar, the two watches have exactly the same battery capacity.
You will find the result at the end of this review.
Garmin Fenix 6 Walkthrough
But first I will show you the most important features in the Garmin Fenix 6-series. I won´t go through all of them as there is quite a lot of them. But I will show the ones that I use most frequently.
If we start off with the opening screen, you´ll find a lot of data which you can set as you please. Personally I set date, altitude, steps, battery life, heart rate and number of kms that I have run each week.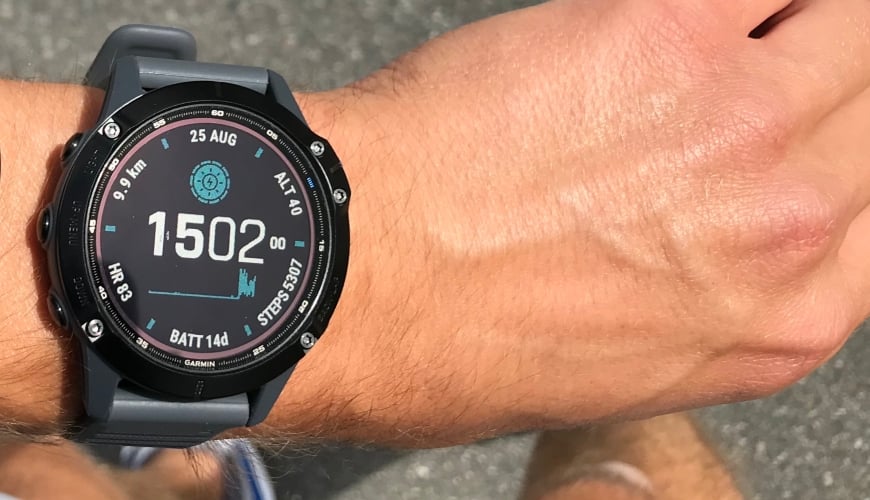 Another new feature in this SOLAR version of Fenix 6, is this SOLAR symbol, where the ring around fills up more and more according to how much sunlight the watch is exposed to (in the picture above the intensity is 100%). At the bottom of the screen the sun intensity is plotted over time.
Gamin Fenix 6 Widgets
If you start scrolling up or down, you get to the list of Widgets.
The first thing I come across is a solar-widget where I can see how much solar energy the watch has been exposed to during the last six hours. Basically what I already saw on the opening screen.
There is also a weather-app. A list of sunrise and sundown.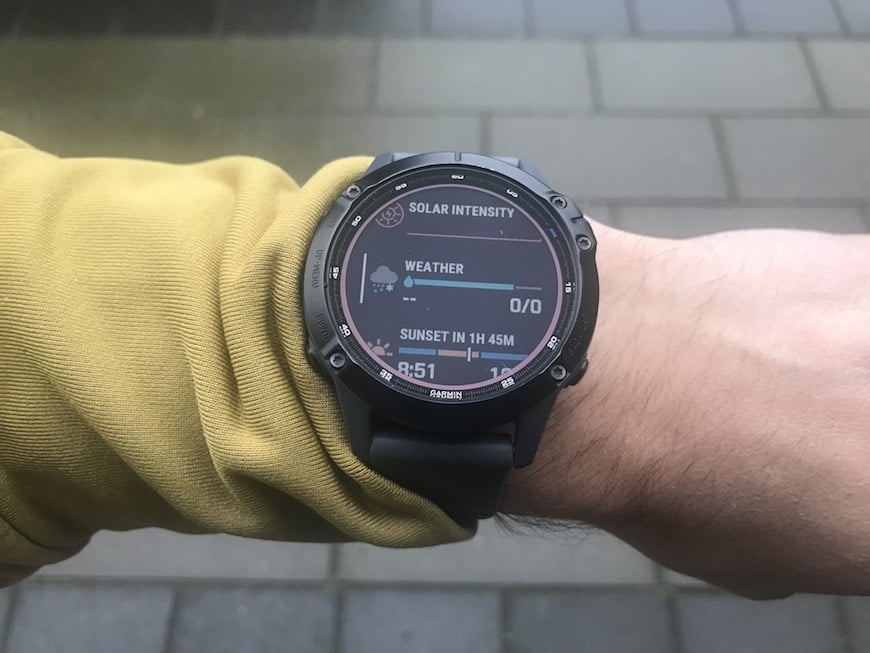 A compass, altimeter and barometer.
And then we get to some of the more running - and training specific features....
Garmin Fenix 6 Training features
In Garmin Fenix 6 you get continous measurements of your VO2max levels and your lactate threshold which can indicate if your form is moving in a positive or negative direction.
And after each training, the watch provides data on how your workout has affected your form.
Garmin Fenix 6 also has more advanced training features like Training Status, Training Load, Load Focus and Recovery Time. These features will all help to evaluate if your training has been organized properly. In other words, if you have had the right mix-up of the different types of training you can expose your body to.
On the picture below we have the Low Aerobic -, High Aerobic and Anaerobic training effect - and the small dotted boxes indicate the optimal range for your training load. In addition, the watch can make suggestions for what kind of training you should increase to develop your form in a positive direction.
Garmin Fenix 6 also has heat - and altitude acclimatization which can tell you if your body has adjusted to changes in temperature or altitude. This can be useful if you travel a lot, fx in connection with competitions and would like to know when your body is ready to perform at its best.
There is also the "Race Predictor" where the watch will predict how you will perform on a variety of distances. The Race Predictor have become significantly more accurate in the latest watches. But my experience still tells me that you have to use the watch continuously for several weeks and months before you will get a fairly accurate prediction.
Latest activities, activity tracking and smartwatch-features
In the widget list you can also see your latest activities. In my case its basically just runs and you can find a lot of data on your runs. You can see what physiological benefit your latest workout has given you. You can see what your heart rate has been - divided into the different heart rate zones. You can check out lap times and times pr.km. In addition you can find a map and altitude curve for your run.
Gamin Fenix 6 Activity tracking
In addition to the workout features, Garmin Fenix 6 has of course all the activity tracking-features you can wish for: Step, distance, sleep, heart rate, levels, calories, etc..
Here you may find heart rate, current stress level and Body Battery which indicates the fatigue - and energy level of your body.
Garmin Fenix 6 also has a Pulse OX sensor to monitor the oxygen saturation of the blood.
Garmin Fenix 6 - Calendar, smart notification and built-in music
It also has a calendar feature, smart notifications and music feature. The watch has room for 2000 songs and if you have a Premium-account with Spotify or Deezer, then you can transfer music, podcasts and playlists directly to the watch.
Its also possible to add more widgets among those already in the watch but you can also download completely new widgets in the Garmin Connect IQ store.
Control menu and settings
If you press the button at the top left, the control menu will open.
In the menu you can turn the Save Battery mode on and off among other things.
You can open "My Wallet" and use the watch for contactless payment via Garmin Pay.
There are also timers and alarms.
In addition you can save your current position if you at later stage wants to use the navigation feature to relocate the place.
The control menu also has alternative time zones in addition to the feature "Find my phone", which you use to retrace your phone if you are unable to find it.
You can also drop other features into the menu if there are features you use more frequently than others.
You can access the general settings by pressing the center button on the left. In the menu you can configure all settings.
Activity profiles
If I want to start an activity, press the top right button. First you will see your favorite profiles - (Mine were) Running, Trail running and Mountainbike. But its possible to add a long list of other profiles which you can find here. Some of the new ones are Indoor climbing, Bouldering and Surf.
Navigation and Map
In here you will also find Navigation. Fenix 6 has built-in maps so you can navigate according to many different things, among those Points of Interest and places nearby. The Navigation-features I used most frequently were Back To Start, Tracks or Courses and Round-Trip Course.
Back to Start is smart if you have set off on a run and for some reason want to return to your starting point.
In Courses or Tracks you have the option to upload a route to follow. It could be one you created yourself in Garmin Connect or it could be a GPX-file with route data which you first upload to Garmin Connect and then to the watch.
The Round-Trip Course is particularly brilliant if you want to run a certain distance and aren´t too familiar with the area. You simply enter how far you want to go, i.e. 10 km, which direction you want to follow from the start, i.e. east and then the watch will come up with three suggestions for routes around 10 km (plus/minus). And after that, you can navigate the course, just like its done with a GPS in a car.
You can also follow routes which you previously have used. Or you can navigate for stored positions, a certain direction, specific coordinates or you can mark a spot on the map.
In addition there is Expedition-mode, which can track you if you are going for a trip for several days.
Garmin Fenix 6 More data fields
In the various activity profiles, you have the possibility to make all the settings in the world for your running-activity profile. I.e. you can change your data fields. As a new feature, you are able to have up to 6 data fields in the screen in Garmin Fenix 6 and Fenix 6S, while in the larger version in Fenix 6X there is room for up to 8 data fields. And you can easily decide which data you want in the individual fields.
Just like you can add more new Widgets and Watch Faces, then you also find new data fields in Gamin Connect IQ.
Interval training and PacePro
Its also possible to create a simple session of interval training straight on the watch. In this case I made 5x1000 m with a 2 min break in between. And then when you start the watch, the watch will guide you through the intervals.
If you want to make it slightly more advanced, you can create a training session in Garmin Connect, either on your mobile or on the Internet and then transfer the session to the watch. This will allow you to get far more advanced training sessions, and it will be possible to decide how fast you want to run during the individual intervals. The watch will also tell you if you are running too fast or too slow during the run.
PacePro is one of the super cool new features in Fenix 6. You create a route in Garmin Connect, it could be a half marathon or marathon-route, and then you specify a finishing time or average pace.
The brilliant part about this feature is that PacePro takes into account the altitude profile of the route and guides you in accordance with how your pace should be in order to reach your desired finishing time. In other words, it tells you how fast you should run going downhill and how slow you should run going uphill. In that way you can make the most of your strength and energy - and in the end get the fastest finishing time.
During the creation of the PacePro strategy in Garmin Connect app, you can choose how fast you should be going uphill. I personally prefer taking it easy uphill and then making upp for lost time downhill. I can also choose if I want to run "negativ split", meaning if I want to increase the pace continuously as I approach the goal. Or the other way round. And you can see the changes you make will influence your split times.
Daily workout suggestion
The new feature, Daily Suggested Workouts, which recently was introduced in Garmin Forerunner 745 has also been added to the latest watches of the Garmin Fenix 6 series.
Thanks to Daily Suggested Workouts, Garmin Fenix 6 works as your personal running - and cycling coach, which based on your current fitness level and training load as well as your sleep -, stress - and recovery status, makes CONCRETE recommendations for CONCRETE workout sessions to be followed on a daily basis. A rather ingenious feature.
Crash detection and tracking feature
As most of the latest Garmin watches, Fenix 6 Pro Solar also has the crash - and tracking feature which can notify your loved ones if you suddenly doesn´t feel well, have an accident or get into a situation where you don´t feel safe and want to make sure people know your whereabouts.
You can press the top left button for about 5 seconds to send the message. But the watch can also send the message itself if it registers a strong blow followed by a period of no movement (for instance in case of a bike-crash).
In that case a message will be sent to your loved ones with a live-track link to alert them of your whereabouts. Of course its a feature that you hope you will never need but its certainly great to have. Notice that this feature only works if the watch is connected to your smartphone and the smartphone is nearby. Also the Crash Detection feature only works if you have activated an activity like a run or a bike ride.
Battery life (continued) – Garmin Fenix 6 Pro SOLAR
And then we return to the SOLAR and battery life.
Its a common misconception that the watch can be charged via solar power. That is not possible. Its certainly not a practical solution as it will take way too long. You can still charge the watch with the included USB-cable from time to time. But the solar power can extend the battery life in between the real charges. Indeed that is also what my small un-scientific test has revealed.
SOLARS importance in smartwatch mode
To give you an indication of what the solar cells are capable of, I tried to leave the watch in smartwatch mode in direct sunlight on a cloudless day and after 7 hours the battery had gained just 2 %. What this shows is that the solar cells are able to keep the battery level more or less constant (in Smartwatch-mode) as long as you expose the watch to sunlight which is of course impossible to do constantly.
SOLARS importance in GPS mode
During another little test, I placed the Garmin Fenix 6 Pro Solar in direct sunlight on a cloudless day and launched an activity with the GPS on and left the watch in the sun for 3 hours. The watch was charged to exactly 25% as the SOLAR feature is not activated when the battery is very close to being full, so I chose 25%.
After 3 hours I charged the watch again to 25% and repeated the same test but this time the watch was placed with the screen down, so SOLAR could NOT influence the battery level.
The result of my little test was that the watch in full sunlight in 3 hours went from 25% to 19% (in GPS-mode) while with the screen down (without SOLAR) it went from 25% to 19% in 3 hours (in GPS-mode). What? So no difference?
Pictures from Test
WITH

SOLAR charging

Ready for test - Full sunlight:
Starting test - Battery 25%:
After 3 hours - 19% battery left:
There were 100% Solar intensity throughout the 3 hours:
Pictures from Test
WITHOUT

SOLAR charging

Ready for test WITHOUT SOLAR - Battery 25%:
Testposition:
After 3 hours - 19% battery left:
There were 0% Solar intensity throughout the 3 hours:

I did a little more digging into the subject and the best explanation is that 3 hours simply isn´t enough to make a real difference. If we look at the numbers, Garmin say that Garmin Fenix 6 Pro Solar in GPS-mode preserves power up to 36 hours WITHOUT SOLAR, and up to 40 hours WITH SOLAR. This corresponds to a battery life extension of about 11% in GPS-mode with ideal conditions.
This means that in my test where Garmin Fenix 6 Pro Solar lost 6% power in the shade, the watch should theoretically "only" have lost 5,4% power (an improvement of 11% as compared to when the creen was in the shade)- But as the difference is so small (below 1%), and as Garmin Fenix 6 Pro Solar indicated the battery level in whole numbers (without decimals), I see no difference in my test.
Perhaps the result would have been different if the test had been for 8 or 10 hours. But anyway, the differences are very small. I have seen other tests and reviews, where people have noticed a significantly greater effect of the Solar charge, but for obvious reasons, I can only make conclusions on the basis of my own little test.
Battery life on an average day
When I use Garmin Fenix 6 Pro Solar on an average day where I spend most of the day indoor, the Solar-feature doesn´t have a big impact on the total battery life in Smartwatch mode.
During the testing period, I wore both Garmin Fenix 6 Pro Solar and Garmin Fenix 6 Sapphire for two weeks and exposed them to exactly the same conditions. Fenix 6 Sapphire (without SOLAR) ran out of power on Day 10 while Fenix 6 Pro Solar managed about 12 hours more which corresponds to a battery life extension of about 5%.
During the two weeks I went for 8 runs which of course took its toll on the battery. And I think that I was outside for about 2-3 hours a day. And that is simply not enough to reach a meaningful effect with the SOLAR feature when you live in Denmark (where you can´t expect sunshine every day). So I have certainly not used the SOLAR feature to its full capacity.
But judging from my individual tests, the SOLAR feature does at least have the capacity to extend the battery life if you stay outdoor for enough time (and the sun is shining).
Garmin say that with ideal conditions, you can extend the battery life in smartwatch-mode for two days – from 14 days to 16 days. And with ideal conditions Garmin means "3 hours on a daily basis with a minimum of 50.000 lux light conditions".
To put that number into perspective we have over 100.000 lux on a cloudless day in the summer - and the sun doesn´t necessarily have to shine from a cloudless sky in order for the SOLAR feature to have an effect. So on a day where you might experience occasional clouds to be passing by, you can still reach the full effect of the watch.
During a cloudy day where the sun isn´t directly visible but you can almost see it behind the clouds, you will get an effect of about 30%. And during a completely cloudy and rainy day there is no effect at all.
But even though I must say that the effect during an average day is extremely limited, I still think that the SOLAR is a cool feature which sends out a great signal during this period in time where climate change is a huge topic. Even small things count.
The fact that the Solar feature does make a difference can be seen in one of Garmins other watches - the Garmin Instinct Solar. In this watch the solar cells take up a larger part of the dial and therefore the effect is also bigger. In smartwatch mode during ideal conditions you can more than double the battery life.
See all Garmin Solar watches here
More inspiration?
Find further features in our universe of inspiration right here: