The most innovative and revolutionary running shoe of 2021 has just been launched. A trail shoe that sets new standards and delivers a sensational and unique running experience with max. comfort, a terrific grip and flexibility for all kinds of terrain.
I am not the greatest trail runner myself, and I have only had the chance to test a small selection of trail shoes. HOWEVER! Even though my experience is limited, it still takes a lot to impress me and continuously get me excited for another run in a pair of trail shoes.
And I have to say that the Inov-8 TrailFly Ultra G300 MAX is a pair of shoes that excite me, and I could definitely see myself running plenty of trail runs in these shoes. The shoe is wild, incredible, and extreme – in an entirely new and impressive way.
So, why is this trail shoe so innovative and revolutionising? Listen to my video-review below!
Video-review of Inov-8 TrailFly Ultra G300 Max here
Inov-8 Trailfly Ultra G300 Max is based on its graphene
Where should I even begin? There are SO many incredible technologies to highlight.
But first of all, the Inov-8 med TrailFly shoe is the first running shoe made with a graphene-enhanced foam material in the midsole. An innovation that sets new standards in terms of durability.
If you are familiar with INOV-8's trail shoes, you'll probably already be familiar with the graphene material. If you are new to INOV-8 and graphene, I can tell you there's something amazing to look forward to.
Because graphene is the world's thinnest material but still 200 times stronger than steel. It is also incredibly flexible. It can be folded, stretched, and bent without breaking. In fact, the people who discovered graphene was awarded the Nobel Prize in 2010.
Using graphene in running shoes has allowed INOV-8 to design the most outstanding grip in the outsole, which has been proven to be 50% more flexible, 50% stronger, and 50% more durable, compared to regular outsoles. INOV-8 is still the only brand in the world that uses graphene.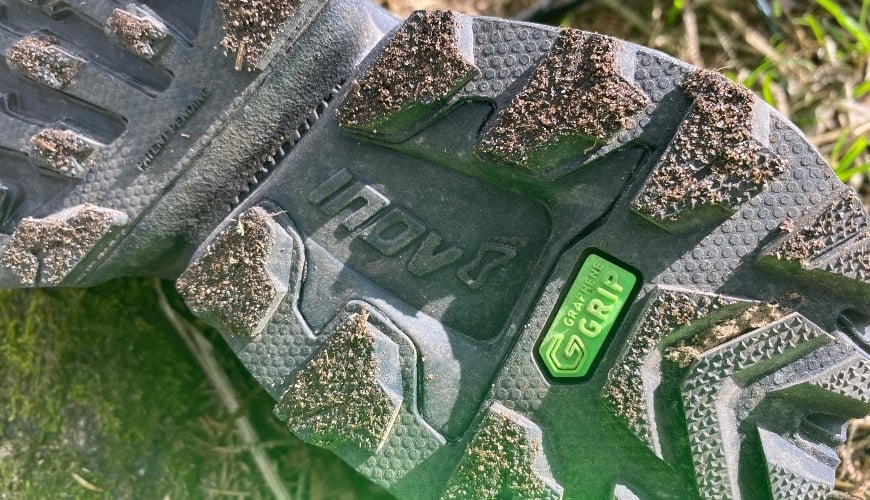 Trailfly Ulta G300 Max is designed with graphene in the midsole
A success story that has cemented the all-round shoe, TerraUltra G270, as one of INOV-8's most popular trail shoes. But it doesn't stop with the outsole. INOV-8 has further developed their successful use of graphene in the outsole and now incorporates it into the TrailFly, the midsole of the shoe – hence the shoe's name, "G-Fly".
On paper, this should give the TrailFly midsole 25% more return of energy, i.e., responsiveness, compared with other classic EVA midsoles. And even 10% more than the TerraUltra, which already has a great return of energy.
I have definitely noticed how the TrailFly is more responsive than the other trail shoes I have tried. In a way, it is like this shoe has been an eye-wakener for me to realise what trail and trail shoes are capable of.
Impressive comfort in spite of its stack height
I have only had a few runs with these shoes, but something I have indeed noticed – besides the great responsiveness – is how extremely soft and comfortable they are.
The shoe has a relatively tall stack height, compared to other trail shoes, but this also helps to deliver amazing comfort.
Fortunately, I have not noticed any lack of feeling with the surface, despite the stack height.
ADAPTER-flex outsole provides a phenomenal grip
First of all, the 4mm grip studs and the deep flex grooves in the midsole have made me feel extremely safe on both soft and firm surfaces. On the very soft surfaces, however, I do not think the shoe delivers as great a grip. For these kinds of challenges, it would be ideal to go for the INOV-8 MudClaw G260 V2 instead.
Nevertheless, the amazing contact with the surface is thanks to (another) genius move by INOV-8. These 10mm deep ADAPTER-FLEX grooves in the outsole and midsole. The flex grooves of the TrailFly help to make it the only maximum-padded shoe that will quickly adapt, react, and shape according to the uneven and hilly terrain.
It feels amazing how the flexible, tall midsole adapts whenever you are running on branches, rocks, and the like. My forefoot has easily and quickly reacted while the heel is kept safe and stable.
ADAPTER-FIT upper allows your feet to move naturally
And even if it's hard to believe, there is still another thing to highlight. The upper! It consists of INOV-8's ADAPTER-FIT technology, which is very supportive and forgiving. I have experienced a comfortable upper that naturally follows the movements of my feet and has a good, protective toe-box.
There is also plenty of room in the shoe for those with wide feet, or for when the toes swell during training. The TrailFly actually has the widest fit in the INOV-8's assortment. It has been given the "rating" of 5 on a scale of 1-5. Personally, I think it is a bit too wide. I have a quite narrow and slim foot and I have to really tighten the shoe to make it fit properly.
But this shouldn't take away the focus from EVERYTHING this shoe has to offer. Maximum comfort and incredible technologies which will undoubtedly impress any trail runner that is looking for a great trail shoe for long distances, or the ultra-marathon.
A G-fly midsole for a bouncy and max soft running experience. A graphene outsole for extreme grip and durability. And finally, but not least, an ADAPTER-FLEX groove for fantastic flexibility!
Buy Inov-8 Trailfly Ultra G300 Max
More inspiration?
Find further articles in our universe of inspiration right here: