New Balance has just launched the New Balance 1080 V11, the successor to the ultra-popular New Balance 1080 V10, which was one of my absolute favorite running shoes in the past year. You will find my personal review of the shoe here ...
New Balance 1080 V11 - VIDEO
Let me start off by saying that the best thing about New Balance 1080 V11 is that no big changes have been made in comparison to its predecessor New Balance 1080 V10. I say this because 1080 V10 for me personally was one of the absolute best running shoes last year. I have now tested the new model and I can´t see any reason why this model won´t be at least as succesful as its predecessor.
New Balance 1080 V10 specifications
Type: Neutral, Daily Training
Heel drop: 8 mm
Weight: 262 g. (US 9), 227 g. (US 7.5)
New Balance 1080 V11 – A top-class running shoe for everyday training
New Balance 1080 V11 is a neutral running shoe for daily training which fits into the category of top class running shoes with luxury cushioning and focus on comfort. If we look towards other brands, it has traditionally been compared to Asics GEL-Nimbus, Saucony Triumph, Brooks Glycerin and Nike Vomero.
But New Balance are well on their way towards steering their 1080's in a different direction than their competitors ...
A light and versatile running shoe
1080 V11 is like its predecessor V10 significantly lighter than its competitors, which is also the feeling you get, when you put it on. You still get great comfort, but New Balance has (as opposed to its competitors) severely reduced the inside padding of the shoe which along with the rest of the upper saves weight.
Here you see it in comparison to Asics GEL-Nimbus and Saucony Triumph.
Left: Asics GEL-Nimbus 23. Middle: New Balance 1080 V11. Right: Saucony Triumph 18.
1080V11 does not give you the sensation of being wrapped in super soft materials like you get with Asics GEL-Nimbus or Saucony Triumph among others. But I think New Balance has found exactly the right balance. It has a great fit and it is very comfortable - also for an extended period of time.
The relatively low weight of the shoe makes 1080v11 significantly faster and more versatile than the previous mentioned competitors. You get luxurious cushioning and protection as expected, but the lighter design turns New Balance 1080V11 into the kind of shoe which I would happily wear on all my runs.
I am otherwise very much in favor of wearing different shoes for different purposes. Personally I always do my long runs and my recovery runs in a soft, cushioned and protective shoe, where focus is on comfort. And for my fast tempo runs and intervals I always wear a light and fast shoe. But New Balance 1080V11 is for me one of the very few shoes which masters everything. Perhaps with the exception of the shortest and fastest intervals, I can´t recall a workout which this shoe wouldn´t be perfect for!
New Balance 1080 V10 vs. New Balance 1080 V11 – What are the differences?
Left: New Balance 1080 V10. Right: New Balance 1080 V11.
Updates Upper
If we take a look at the specific changes made, the most important update is related to the upper. It has become more airy and breathable. More flexible in the area over the toes. And the weaving in the sides is stronger which adds more side-to-side stability and provides a more solid hold on the foot.
Minor changes to the midsole
The midsole is still designed with the very nice Fresh Foam X, which I personally think finds an almost perfect balance between soft and firm. Its not super soft and it is also not firm or hard. It finds a sweetspot in between.
The geometrics and the amount of foam in the sole hasn´t been changed in comparison to 1080V10. But these laser-perforated holes which New Balance use to finetune the softness of the sole in different areas, has changed shape from round holes to hexagons.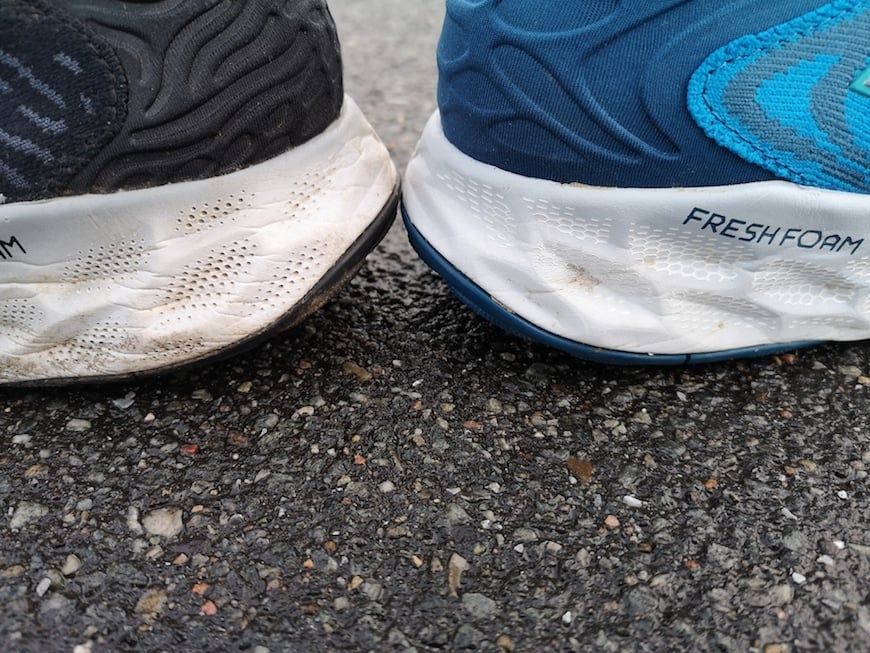 When running I feel absolutely no difference in performance under the foot in comparison to V10. Indeed it still feels very dynamic and well-tuned as far as solidity is concerned.
The outsole of the New Balance 1080 V11 is completely unchanged compared to the New Balance 1080 V10.
Updated heel
The heel is the last place where small updates have been made. The shoe seems maybe a little wider in the heel and it is as if it grabs hold of you a little further down the heel and not as powerful as in 1080V10. Its hard to say if this is good or bad but certainly the fit is slightly different.
Final assessment of New Balance 1080 V11
If you are the type of runner who only wants to have one pair of running shoes, New Balance 1080V11 is a terrific choice. And if you, like me, alternate between different shoes, you won´t regret buying this either! Thanks to its versatility, you will be able to use it for all kinds of runs.
New Balance 1080 V11 is one of those shoes that I without hesitation would recommend for everybody. Regardless if you are a beginner, recreational runner or an experienced runner - this running shoe will certainly justify a place on your shoe shelf.
More inspiration?
Find more articles and videos in our inspiration universe right here: