Written by Julie Elkær
Are you in need of a good and versatile all-round shoe at a TERRIFIC price? And do you at the same time want to test the unique FuelCell Midsole from New Balance? Then you should consider New Balance´s FuelCell Propel V2 which recently have hit the shops in a new and updated version.


I have tested FuelCell Propel V2 over the last couple of weeks, and will offer you all the information you need about this superb do-it-all shoe from New Balance.

Brand: New Balance
Type: Neutral shoe for competition and daily training
Weight: 226 gram (str. 9)
Stack height: 27mm heel, 21 mm forefoot
Drop: 6 mm
Surface: Solid (Road, gravel, paths)
Previous model: New Balance Fuelcell Propel V1

New Balance FuelCell Propel hit the shops for the first time last year, and is a good all-round shoe which is well suited for both new – and experienced runners.

Its lack of weight and the incredibly responsive FuelCell midsole is designed to make you go fast.

The upper is an engineered mesh bootie construction which hugs the foot nicely. A pretty cool feeling if you ask me.

FuelCell Propel V2 also seems to be very durable primarily thanks to the N-durance outsole which is set to withstand all surfaces. That's why I expect it to last for many kilometres.

In total New Balance FuelCell Propel V2 is a shoe you should try out if you need a good high volume versatile training shoe which in addition will cost you less than 1000 kroner. You get your moneys worth with this shoe.
Fit

New Balance Fuelcell Propel V2 is generally more snug than many other running shoes I have tried which is a good thing.

The upper wraps your foot in comfort and offers at the same time a secure and locked-down fit, which makes it incredibly safe to run in.

At first it may feel a bit tight around your foot, but after a couple of runs the mesh-upper will adjust and feel more comfortable. At least that is my experience.

In addition the shoe offers plenty of space in the toebox despite its slightly tight upper.I have relatively wide feet and I had no trouble fitting into the Propel V2

Fuelcell Propel V2 is also true to size and consequently you can select the size which you would normally wear without any worries.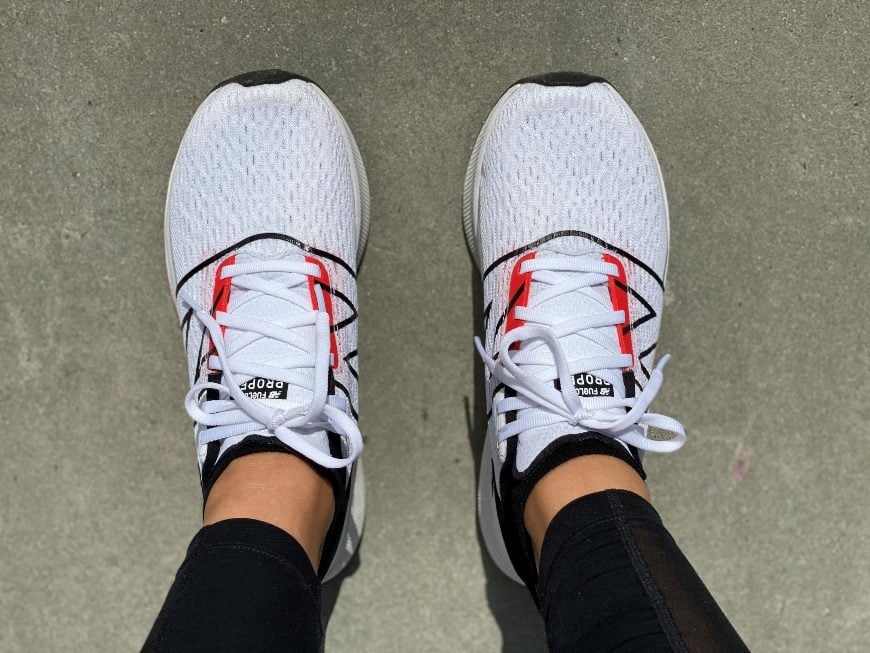 The upper is designed with a light and breathable mesh- and Trace Fiber material.

The lightweight, breathable jacquard forefoot allows cool air to flow through the shoe removing uncomfortable heat build-up and regulating internal temperature to create a healthy environment that feet can thrive in.

If you tend to get warm feet like myself this shoe is perfect for you. It does really provide a light and breathable feeling for your feet while running.

During hot days this shoe has been first-choice for me to avoid my feet from heating up and it really does a good job in that area.

In addition the heel cap is slightly raised to provide additional support for the Achilles tendon and heel, just like the New Balance Fuelcell Rebel.

Personally I am really pleased with this additional feature as it prevents my heel from sliding out and provides a more solid grip around my foot during running.

I generally have very tender heels and I usually get blisters or friction wounds in new shoes – I avoided this in Propel V2 thanks to its raised heelcap, which is also produced from a softer material than its predecessor, Propel V1. A big plus for me!

In addition the tongue is designed in a slightly wider version, which encloses the foot better and secures the foot during lacing.

Unlike many other shoes with heavy tongues, this one is produced from a thin and light material which I think works well along with the breathable upper. The tongue is somewhat shorter than in many other shoes which I struggle to see the purpose of, however it generally doesn´t have any negative effect on the shoe.
Like the name indicates, New Balance FuelCell Propel V2 is produced with a midsole in New Balance FuelCell-material.

FuelCell is a unique foam technology that combines unparalleled return energy with a soft and comfortable midsole. And FuelCell can actually feel different from shoe to shoe despite the fact that it is the same material.

FuelCell's durometer (measure of hardness in rubber, plastic, or nonmetallic material) can range from firm to soft to somewhere in the middle.

In New Balance FuelCell TC, the material comes in an extremely soft version. In New Balance Fuelcell Propel V2, the material is slightly harder which makes the shoe more energetic. Physically this is very evident during runs.
The outsole is produced with the intention to create the perfect balance between great traction and outstanding durability. This mission is accomplished as FuelCell Propel V2 provides great traction on all surfaces.
I have tested it on various surfaces in different weather conditions and it lives up to its promises in all circumstances.
The forefoot in particular provides great traction with its wide grooves and a large section of durable rubber which makes it very safe during wet conditions.
The outsole is produced according to the New Balances N-Durance technology which enhances its durability.
Consequently I plan to many put miles on this shoe as I absolutely love it.
New Balance FuelCell Propel V2 makes for a very smooth run. Its largely due to the fact that the upper, midsole, and outsole all work together to make a great volume shoe.

The design makes it perfect for long or short runs at a high pace. In fact it is absolutely superb for interval training, speedplay and other routines thanks to FuelCell which offers the right combination of solidity and responsivity. That is also the reason why FuelCell Propel V2 is currently my personal favorite for daily runs. New Balance claim themselves that the shoe is extremely versatile and fit for all challenges and I certainly cannot disagree with that.

However, I must add that it clearly works best for moderate- and fast pace outings than slow recovering runs
The very firm FuelCell feels better suited for pacy runs but some might miss softer cushioning for days with tired legs. However, its a matter of taste.
Compared to its predecessor New Balance FuelCell Propel V1 has been updated on a number of levels. The Propel-model is the younger brother to the faster New Balance FuelCell Rebel – and that is very visible in the new version of FuelCell Propel!
If you take a closer look at the outsole, the design is identical to Rebel. This also applies to the heel cap as mentioned earlier.
However, despite the fact that the midsole material is identical, it offers a new and different running sensation. A sensation which is different to the first version of FuelCell Propel which offered a somewhat softer impression.
New Balance FuelCell Propel V2 has become a great deal more solid and smooth than the previous version and personally I think that is the best update to the old version. It simply makes it easier to up the pace which makes it suitable for far more different workouts than its predecessor.
The upper has also undergone a major transformation as it has become slightly lighter which makes it more breathable.
In addition I also love its new sporty look. The men´s version is grey while the women´s is white to my great satisfaction as the white version is simply so cool!
Conklusion

New Balance Fuelcell Propel V2 is a real versatile volume training shoe with great cushioning and bounce. You really get your money´s worth in this shoe. With a price below 1000,- kroner you get a shoe which delivers on all runs – regardless of pace and duration.

This is not least thanks to its brilliant FuelCell midsole but equally to its superb breathable upper as well as its cool and sporty design. I think that Propel V2 must be the best do-it-all shoe at that price.
Usually I know already after the first run if I like the shoe or not. And that was also the case with Propel V2 which on its debut felt great from start to finish. Propel V2 is one of my absolute favorites among high- volume training shoes. And if you prefer a great all-round shoe, which handles all challenges, I am sure this will be a great fit for you. I can only recommend New Balance FuelCell Propel V2.
WANT MORE INSPIRATION?
Find reviews, guides and more inspiring content right here: