Nike Pegasus Trail 2 was the shoe that began my trail-career and opened my eyes to trail-running.
An exciting (pendler)shoe made to get you from the city to the woods. A shoe which have had a thorough update in comparison to its predecessor, Nike Pegasus 36 Trail.
Read my review of Pegasus Trail 2 below and learn what it is capable of and why I want to recommend it to everybody who wants a great and versatile hybrid-shoe suited for both road and dirt paths.
Review chapters
- Info on Nike Pegasus Trail 2
- Developing the Nike Trail-collection
- Nike Pegasus Trail 2 – the perfect shoe for pendling?
- Fit and comfort
- Designfunctions on Nike Pegasus Trail 2
- Pegasus Trail 2 vs. Pegasus 36 Trail
- More focus on trail gives less versatility
- This is what Nike Pegasus Trail 2 feels like
- What kind of runner is Nike Pegasus Trail 2 best suited for?
- Conclusion
Brand: Nike
Shoe type: Trail
Running style: Neutral
Weight: 267 grams (in my size 40)
Stack height: 31 mm/21 mm
Drop: 10 mm
Surface: Best suited for dry and a solid surface
Shock absorption: High
Grip: Low traction - flat close-fitting knobs
Previous model: Nike Pegasus 36 Trail
Developing the Nike Trail-collection
Nike Trail was a collection which until 2019 had received very little attention.
Nike changed that last year where they decided to modernize their trail shoe - a decision we are grateful for today as Nike Trail has turned into a great collection today!
To offer you a short introduction to the trail shoes, Terra Kiger is Nikes fastest and quickest trail shoe, Wildhorse is created for tough terrain thanks to its stable design and secure fit, Pegasus Trail GORE-TEX is designed to keep your feet dry in changing weather - and last but not least the new Pegasus Trail 2 has been changed into a hybridmodel mixing the best of two worlds so you can use it on both roads and dirt paths.
Along with the shoes it is also worth checking out the nice Nike Trail apparel- and equipment collection if you want to complete the trail-look.
As mentioned earlier I began trail-running not too long ago - and boy, have I been smitten by it!
Trail running is an all together different way of running: More space on the paths, no cars or traffic, beautiful nature, more physical challenges not to mention the freedom to run without having to worry about running at a certain pace.
It has been great to take up trail running especially during the corona period as the roads in my area often has a tendency to be packed with runners which makes social distanding even harder. And in the woods and on the paths there is much more space to enjoy.
So there are plenty of good things to enjoy about trail running. But only few people have a forest right on their doorstep - including myself. And this could offer some challenges as running on sidewalks or asphalt rarely provides a very comfortable experience in trail shoes.
For that reason I was thrilled when I got the opportunity to test Nike Pegasus Trail 2, which I have had a crush on since I saw it for the first time when it came out this summer.
Not in the least thanks to its ULTRA-COOL design, which really has been upgraded in comparison to the old model. But equally also because Pegasus Trail 2, according to Nike themselves has been designed as a hybrid-shoe fit for both asphalt and trail paths. Nike refers to Pegasus Trail 2 as a pendling shoe because it works on trail but also when you have to cross over asphalt and sidewalks to get to the trail paths.
Therefore this had to be exactly the shoe that I have been looking for to solve my "transport-issues" of getting to the woods which earlier have been the reason why I never really got started on trail running.
Nike-shoes have occasionlly a small- and narrow fit which can require you to move up a size or half a size in comparison to the number you would normally use.
But this is not the case with Nike Pegasus Trail 2, which has a normalt fit.
I have relatively wide feet which sometimes can be a problem in narrow running shoes, but Pegasus Trail 2 is very spacious both around the midfoot and in the toe box. And therefore its perfect if you have a wide foot.
The normal Pegasus-model generally had a minimal amount of space in the toebox but this has been changed in the Pegasus Trail 2-version.
Its wider and overall higher which is largely due to the toe cap which besides the extra protection also provides more space for the forefoot.
I would, however, have liked the upper to be somewhat more tight around the foot.
As trailrunning involves a lot more breaking and changes in direction than normal road running, it is important that the shoe has a tight fit to minimize the risk of sliding around inside the shoe.
Therefore you should pay attention to the fact that Trail 2 has a slightly less tight fit than other trail shoes.
Fortunately you can solve a bit of this problem yourself by tying the laces tighter than you would otherwise normally do and therefore it didn´t have a negative impact on my experience of the shoe.
In addition to its great fit, I also love its sock-like neoprene-opening which funtions really well to keep the heel in place on the run.
The soft (and super comfortable) neoprene material allowed me to avoid getting blisters and joint wounds which I otherwise often get when I try out new shoes. Giant plus!
Design Features
Breathable mesh upper
The upper is produced in a soft and breathable mesh material with perforated holes in the complete toe area and around the neoprene tongue.
The superb breathable features provides ventilation to offer the optimal temperature for your feet throughout your run.
The mesh upper is also super flexible which makes it incredibly comfortable to wear.
In addition Nike Pegasus Trail 2 is produced with a clever pull-tab on the back for take off. Certainly a small feature that you will appreciate when you have to get going fast.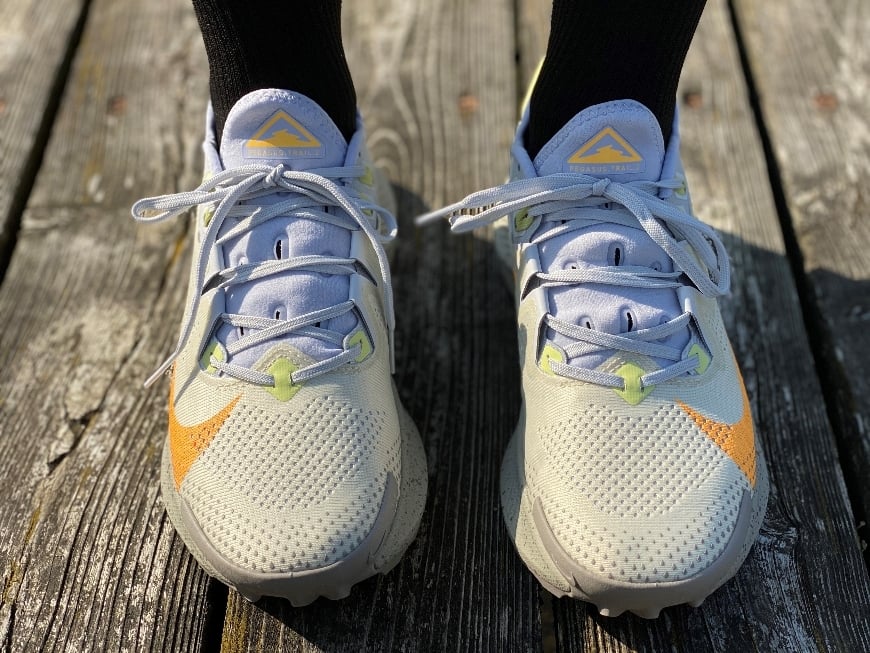 Inner sock and neoprene-alike tongue
The Trail 2 tongue is produced in a neoprene-alike material with a water-resistant coating to prevent moisture from getting into the shoe. Please be aware that this coating can only protect you from getting wet in mild rain or damp terrain where the coating can resist minimal amounts of water instead of penetrating the shoe.
The tongue connects itself to the shoes on the inner side to form a kind of an inner sock which has a great fit around the foot to reduce the risk of blisters and joint wounds.
An increasing number of trail shoes make use of this sock design and personally I like it as it keeps the foot in place in a different and better way.
Its also clever that it connects all the way round and thereby manages to keep out dirt.
I should mention that the tongue is somewhat thin, which can cause you to feel the laces through it if you tighten them like I did.
Therefore I recommend to wear a couple of thick socks so you don´t risk getting annoyed by the laces.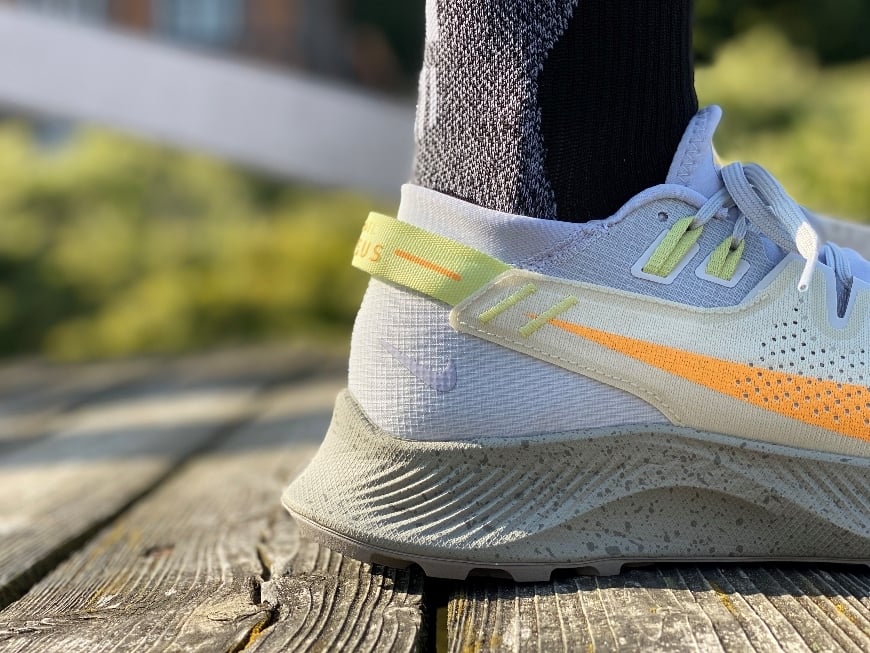 Protective rubber toe cap
At the front Pegasus Trail 2 has been produced with a rubber toecap to protect your toes from rocks and tree roots. It is one of those features that sets it apart from its predecessor Pegasus 36 Trail, which didn´t have much protection.
The rubber toe cap doesn´t look like much but it is incredibly efficient.
I often bumped my feet relatively hard against rocks and roots and every time the small rubber strip managed to protect my toes against the blow.


Nike React midsole
Pegasus Trail 2 is produced with a midsole in React-foam. React is softer and more padded than the Zoom-material which was used in the predecessor, Pegasus 36 Trail.
Personally I love this change as the softer material makes it more comfortable to run on a solid surface.
Robust outsole grip
As earlier mentioned Trail 2 is intended as a"road-to-trail"-pendlershoe. This can clearly be seen through the design of the outsole which is inspired by bicycle tires.
The outsole on Pegasus Trail 2 is designed with completely flat and close-sitting knobs providing a great grip on solid paths in the woods or on a hard surface like stones and rocks.
Nike Pegasus Trail 2 is therefore perfect for the runner who primarily runs on the larger paths in the woods and who wants a shoe which can provide a better grip than the normal "asphalt shoes."
In this shoe you get increased grip and safey but you also get a shoe which can be used on asphalt to get you to and from the woods.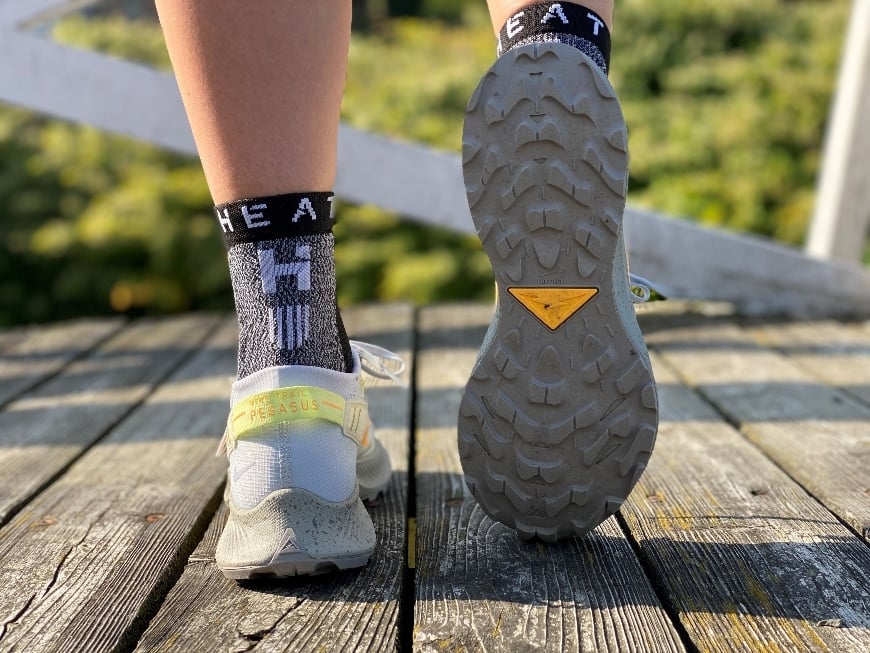 Pegasus Trail 2 has been transformed from its prececessor Pegasus 36 Trail to such an extent, that it actually no longer feels like it is part of the Pegasus-series.
That might be the reason why Nike have chosen to give it a differen name to what was expected (Nike Pegasus 37 Trail).
Perhaps it is because it has been updated on practically everything: Upper, midsole, outsole, choice of material and safety.
This shoe is new and different og personally I love the fact that Nike have chosen to focus more on trail by adding so many updates to it.
First and foremost the Zoom-material from Pegasus 36 Trail has been replaced by a full React-midsole with a somewhat higher stack height, which actually is taller in the track-version than in the normal Pegasus-model.
To add stability to the stack height the geometri of the midsole has been changed to create a wider and more stable sensation.
In addition the outsole has been given a more trail-friendly design with bigger and more powerful knobs to provide a better grip.
The upper has also been produced in a more breathable material with a neoprene tongue as well as a rubber toe cap for increased safety.
These updates contribute to make a better off-road shoe and distance itself from the normal Pegasus-model to make it a lot more suited for trail running than Pegasus 36 trail.
More focus on trail gives less versatility

Generally I don´t have much negative things to say about Nike Pegasus Trail 2, but I still have to highlight one thing which has changed "negatively" in comparison to the previous version - and that is the lack of versatility.
Indeed the downside of having increased the focus on the trail-part is that it has lost a bit of its do-it-all-ability.
Last years model, Pegasus 36 Trail, worked equally well on the roads as the standard Pegasus-model. This has been changed this year where the shoe has become more trail-specialized which has taken away some of its versatility.
The biggest challenge on the road in terms of performance is clearly that it has gained weight and weighs no less than 42 grams more than Pegasus 36 Trail.
However, it has improved in the trail part which I personlly love. And I don´t think its a negative thing but just a change from the previous model.
But if you previosuly have been running in Pegasus 36 Trail which does equally well on trail and road you should be aware of this.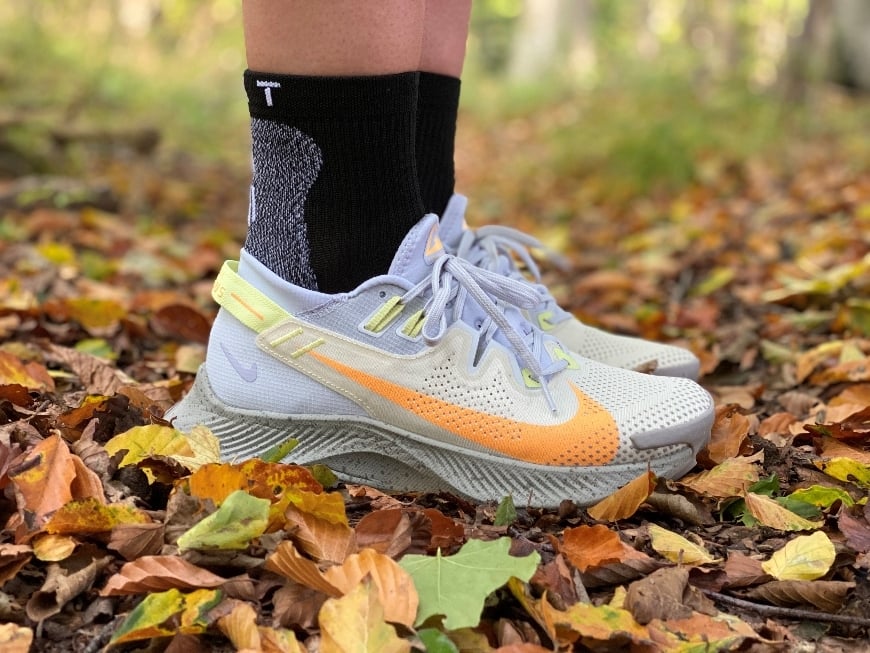 Nike Pegasus Trail 2 has got so much padding and shock absorption that you can doubt whether its a trail- or a normal road running shoe.
Trailshoes usually have less shock absorption as you run on a softer surface than asphalt and instead you are more concerned about having a great feel for the surface.
But as Trail 2 is a hybrid shoe both fit for asphalt and dit roads, it is incredibly responsive and soft.
Pegasus Trail 2 provides a wide and stable sensation. The solid React-foam is well padded but still provides sufficient rigidity and protection for the shoe to function well on mild to moderate trail paths.
The wide outsole provides a relatively stable run even in moderately uneven terrain.
The shoe feels soft and comfortable for low-pace runs on asphalt and sidewalks
Generally the shoe has been updated to make it even better on the trail paths than the previous version. This is largely due to the coarser knobs and the increased protection which has been added.
In addition the breathable upper functions really well as it manages to ventilate your feet well thanks to the many airholes placed around toes and on the side of the shoe.
Nike Pegasus Trail 2 has got plenty of shock absorption, it has a very durable outsole and it is designed to provide a smooth phase from road to trail.
Therefore its ideal for the runner who wants comfortable and versatile trail shoe which does well on asphalt as well as on dirt roads which demand an increased grip.
The shoe is also well suited for the trail rookie who wants a great shoe which does well on moderate trail routes.
Conclusion

Along with its name change Nike Pegasus Trail 2 has been given a complete makover. New upper, new foam, new midsole, new outsole and a number of new features which makes it a lot cooler than the previous model.
If you are looking for a trail shoe which also works on your normal runs, Trail 2 is therefore certainly worth to try out.
Trail 2 is a hybrid shoe which performs well on both road and (especially) trail - without sacrificing the protection and durability which traill shoes are usually famous for.
If you (like me) loves to take a run in the woods from time to time - or wants to try out trail running on beginners´ level, then this shoe is certainly a great choice for you.
I myself couldn´t have wished for a better shoe to start off my trail career.
(Personally I only occasionally stray off asphalt and therefore you should read and interpret this review as coming from a person who runs from road to trail on relatively mild surfaces.
For me Pegasus Trail 2 is exactly what I need when I need a "pendler-shoe" giving me the option to be a bit more adventurous from time to time.)
More inspiration?
Find more features in our universe right here:
Inspiration and features - click here