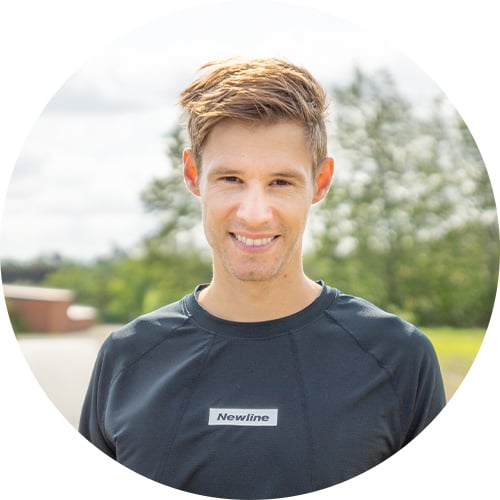 By Jesper Petersen
After several years of development, Nike has released a running shoe with a completely new type of shock-absorption! I have tested the Nike Joyride Run Flyknit – a running shoe designed for the days when your legs need a break. A running shoe that makes running feel easy.
YES, it IS a running shoe! Though it is not every day that you find a running shoe that is so fundamentally different like the Nike Joyride Run Flyknit!
Nike markets the shoe as a recovery running shoe. A running shoe that makes running feel easy, and which you can use on the days where your legs and feet are sore, and you just need to go on a relaxed jog to recover.
By continuing to read, you will find out whether that is how I experience it.
Revolutionary shock-absorption
You do not need to look at the Nike Joyride Run Flyknit for many seconds before you realize that it does NOT look like a traditional running shoe.
What is new and very unique about the Nike Joyride Run Flyknit is the shock-absorption, called Joyride, and which Nike describe as a "Conforming Cushioning System." It is even written on the shoe.
The idea is that the new system provides the runner with a unique shock-absorption that conforms to the foot for every single step.
The key element in the new shock-absorption system is that there are a thousand small rubber pearls and that they are strategically placed in 4 pockets under the foot. Each single rubber pearl is super soft and super bouncy and made in the material called TPE – a mix of plastic and rubber.
The small rubber pearls or beads are not so tightly placed that they cannot move around in between each other (to a certain degree). This allows the pearls to conform and move themselves around your foot. It makes for a unique and individualized shock-absorption that conforms to each single runner. The pressure is spread around under your foot differently than traditional running shoe, and this minimizes the chance of pressure points and hotspots.
In addition to the 4 pockets of rubber pearls, the midsole also consists in Nike's softest foam material called SR02. It is even softer than React and ZoomX, and this ensures that it is the pearls rather than the SR02 that absorbs shocks.
Nike state that the Joyride midsole is 14% more shock-absorbing than the React and Zoom Air technologies that you find in the Nike Epic React Flyknit and Nike Pegasus 36.
Buy Nike Joyride Run Flyknit here
Super flexible upper
The upper has an elastic neoprene-like material on the inside of the shoe, which the rest of the upper consists of the FlyKnit – a breathable, super light, and extremely elastic material.
To make the shoe more stable, the FlyKnit upper has some reinforcements on the inside around the midfoot (see the picture below). This helps ensure a great and stable hold of your foot.
Out on the front where there are no reinforcements, the upper is super, super elastic and flexible. In fact, I do not think that I have ever experienced upper material that was THIS elastic as it is in this version of the FlyKnit.
There is a small reinforcement above the big toe – presumably to avoid that its nail gnaws its way through the upper.
The upper generally fits tightly around your foot, but because it is this elastic, you do not feel as if you are being squeezed by the shoe. However, the tight fit rather makes the Nike Joyride Run Flyknit feel very small in size! You should definitely consider moving up half a size than your normal Nike size!
There is a kind of double layer around the heel with an elastic sock on the inside and a more supporting outer layer on the outside.
How does the Nike Joyride Run Flyknit feel?
The first time I put on a pair of Nike Joyride Run Flyknit I thought: "What on earth is going on?" The shoe is very different from all the other shoes I have previously tested. Especially under the middle of the front foot feels very weird. It is exactly as if you are standing on a good old bean bag. You can most clearly feel the small pearls in the front part of the shoe!
It does not feel uncomfortable. Most of all it just feels unique – as if the shoe is giving you a kind of massage under your foot. I can still feel the pearls when I start to run. But after a short while you forget it.
Nike Joyride Run Flyknit generally feels very soft, very flexible, and very comfortable! (At least as long as I keep to shorter runs). I have tested the shoe on both short and long runs with different paces, and there is no doubt that the Nike Joyride Run Flyknit is best fit for the short and relaxed runs – exactly as Nike prescribes.
The Joyride midsole is most definitely great for shock-absorption during landing, but when I run at a faster pace, it feels as if the shoe is a bit "dead." Even though each pearl should be very suspensive, it still does not have the same kick or bounce in the midsole as with the Nike Zoom Pegasus Turbo 2 or Nike Zoom Fly 3. And on the longer runs, I do not think the Nike Joyride Run Flyknit is the best choice. There is simply not enough power and support in the shoe. There is of course a lot of material under the foot, but it is so soft that most roots and larger rocks can easily be felt through the sole. At least I ended up coming home from a 17 km run on a mix of road and paths in woods with very sore and tired feet – and that does not happen normally.
Which shoe is the Nike Joyride Run Flyknit most like?
Ignoring the very unique pearls under the foot, I would say that the Nike Joyride Run Flyknit most of all feels like a much softer version of the Nike Free. In both of them, your foot gets to move about quite freely, and they are both soft and very flexible.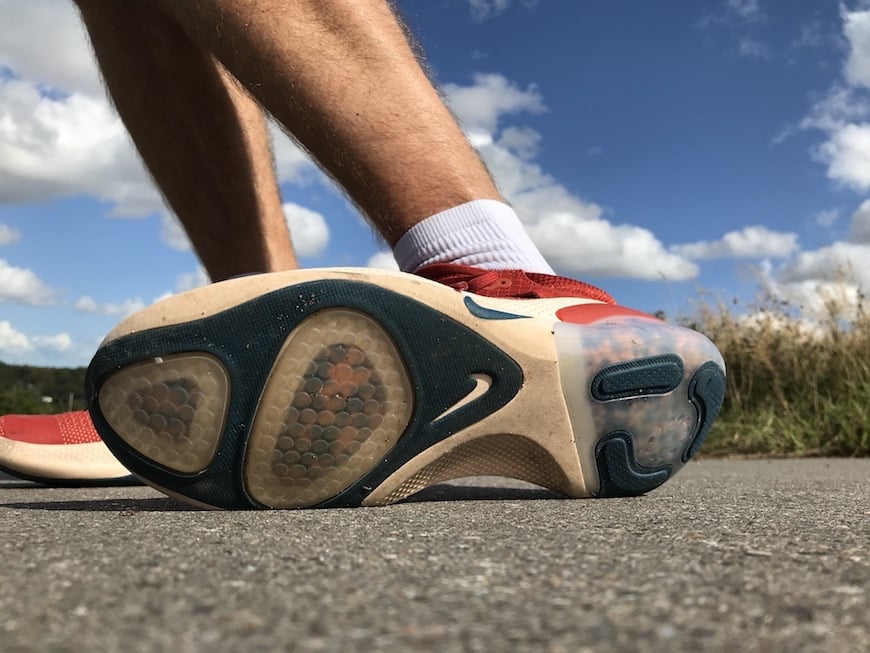 Conclusion

The Joyride technology with the many small pearls under your foot is a fun and original way to think of shock-absorption. The shoe feels markedly different than all other running shoes that I have previously tested. It is cool to see Nike dare experiment this much!
Personally, I am not going to use the shoe for either quick or long runs. But if you seek a soft and comfortable running shoe for shorter runs, recovery runs, or for running in the gym, then I believe the Nike Joyride Run Flyknit will be the right choice.
I also imagine that there will be a lot of people who would use it as an everyday sneaker, because of its modern and sexy look. And that is something it definitely is fit for!
Do you need a running shoe for longer or faster runs, then I would without a doubt recommend you to look at some of Nike's other running shoes.
Buy Nike Joyride Run Flyknit here
Video - Nike Joyride run flyknit
You can see Nike's own presentation of the Nike Joyride Run Flyknit here:
MORE INSPIRATION?
Find more articles in our inspiration universe right here: